Top 10 Amazon TV Shows
More and more people start enjoying staying at home rather than going out as the internet is so developed. It must be a relief to lie on the sofa, eating snacks and enjoying TV shows. Here, we will introduce the top 10 Amazon TV shows for you. Read and pick the shows that you are interested in.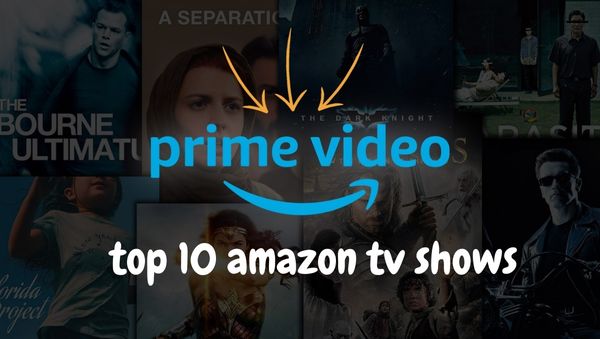 ---
1. Fleabag
Director: Harry Bradbeer
Cast: Phoebe Waller-Bridge, Ben Aldridge, Sian Clifford, Bill Paterson, Jenny Rainsford
Synopsis: The protagonist is a single woman nicknamed "Fleabag", and the story is about her life in London. She originally ran a coffee shop in London with her best friend Boo, but her life was changed by the unexpected death of Boo. Fleabag's life in London is very unsatisfactory: estranged from her sister Claire; her father chooses to live with her stepmother and neglects his daughters; her boyfriend once again breaks up with her. The most uncomfortable thing for her is that life seems to have returned to normal now, but she still thinks of Boo from time to time.
2. The Man in the High Castle
Director: David Semel, Daniel Percival, Ken Olin, Michael Rymer, Bryan Spicer, Nelson McCormick, Brad Anderson, Karyn Kusama, Michael Slovis
Cast: Alexa Davalos, Joel de la Fuente, Rufus Sewell, Brennan Brown
Synopsis: The series tells an alternate history of the victory of the Axis powers in World War II. In the series, in 1962 the United States was split into three countries: the former U.S. territory in the west of the Rocky Mountains became a puppet state of the Japanese Empire, which is the Japanese Pacific States; the former U.S. territory in the east of the Rocky Mountain reorganized by the surrendered U.S. forces and the Nazi Party, which is the Nazi America controlled by the Großes Nazi-Reich, Greater Nazi Reich; and a neutral zone sandwiched between the two countries, which is the Rocky Mountain States.
3. The Boys
Director: Dan Trachtenberg, Matt Shakman, Phil Sgriccia, Fred Toye, Stefan Schwartz, Jennifer Phang, Dan Attias, Eric Kripke
Cast: Karl Urban, Jack Quaid, Antony Starr, Erin Moriarty
Synopsis: This is a world where superpowers and ordinary people coexist. Homelander, A-Train, The Deep, Queen Maeve, Translucent and Black Noir belong to the world's largest superhero company, the Vought International, and they are helping the government to punish and eliminate the evil. While maintaining world peace, they also earn uncountable profits for the company.
Hughie's girlfriend died in an accident, and A-Train made the accident. Hughie is reluctant to accept the scribbled apology and compensation from the Water Company, and decides to avenge his girlfriend.
4. The Marvelous Mrs. Maisel
Director: Amy Sherman-Palladino, Daniel Palladino, Scott Ellis
Cast: Claire Foy, Paul Bettany, Julia Davis, Camilla Rutherford
Synopsis: In Manhattan, New York in 1958, Jewish woman Miriam Midge Maisel is shrewd, disciplined, and energetic, and she had everything she wanted - the perfect husband, two children and an elegant Upper West Side apartment. However, her perfect life took an unexpected turn and the rest of her life was rewritten overnight after her husband confessed his affairs and left. Without warning, she needed to figure out her new way out as soon as possible. After her unknown talent was revealed, she stepped out of her comfort zone and gradually transformed into an excellent stand-up comedian.
5. The Tick
Director: Wally Pfister, Romeo Tirone, Sheree Folkson, Lev L. Spiro
Cast: Peter Serafinowicz, Griffin Newman, Valorie Curry, Yara Martinez
Synopsis: Arthur, an incompetent, failed accountant, finds his city is being run by a supervillain whom others thought was dead; and as he tries to unravel the conspiracy, he joins the strange, blue superhero—The Tick's alliance.
The Tick is a nigh-invulnerable superhero in a blue tick suit who arrives in the city to help combat crime and uncover the mysterious figure behind the city's underworld. He befriends a nervous and mild-mannered young man named Arthur who becomes his sidekick. They come to realize that an apparently long-dead supervillain called "The Terror" may still be pulling the strings in the city's underworld.
6. Sneaky Pete
Director: Seth Gordon, Michael Dinner, Michael Pressman, Craig Zisk
Cast: Giovanni Ribisi, Margo Martindale, Marin Ireland, Peter Gerety
Synopsis: A 30-something con man, Marius, is released from prison only to find himself hunted by the vicious gangster he once robbed. With nowhere else to turn, Marius takes cover from his past by assuming the identity of his cellmate, Pete. He evades his past creditors while tackling his new "family business" - a bail bond. He now has to deal with villains worse than himself, and his partner and "cousin" Julia, doubts his true motives.
Katie Boyd used to cheat with Marius, but now she has given up the old business, married and has adopted a daughter. But her life was disrupted when Marius came to ask for help one day.
7. Bosch
Director: Eric Ellis Overmyer
Cast: Titus Welliver, Jamie Hector, Amy Aquino, Lance Reddick
Synopsis: Harry Bosch has murder on his mind. A former Special Forces officer who has done tours in the Middle East, Bosch is now a tenacious, jazz-loving homicide detective in the Hollywood Division of the LAPD. Harry Bosch stands trial for the shooting of a serial murder suspect - just as a cold case involving the remains of a boy forces Bosch to confront his past. Bosch is faced with myriad challenges as he investigates suspicious deaths and follows trails of corruption -- including the dark side of the police department -- in his relentless pursuit of the truth. The critically acclaimed procedural is based on Michael Connelly's series of best-selling novels.
8. Tales from the Loop
Director: Nathaniel Halpern
Cast: Rebecca Hall, Paul Schneider, Daniel Zolghadri, Duncan Joiner
Synopsis: This TV series is based on a graphic novel by Swedish artist Simon Stålenhag. In the original book, after World War II, humans began to use nuclear energy, and a town became a closed technological pilot town. Deep down the town, a secret base for the Loop project was built. The Loop is a machine designed to explore and unravel the mysteries of the universe, making what was previously only available in science fiction possible in the real life. Almost all the people in the town served this project, and the project produced all kinds of chaotic and interesting inventions, and all of this also affected the people in the town.
9. Transparent
Director: Joey Soloway
Cast: Jeffrey Tambor, Gaby Hoffmann, Amy Landecker, Jay Duplass
Synopsis: Mort is a well-respected university professor. Although he and his wife Shelly have been divorced for many years, they still maintain a very friendly relationship.
Mort has three children, and her eldest daughter, Sarah, is in a happy marriage, but in fact, she has never forgotten her ex-girlfriend. His son, Josh, is the manager of the band and e has an unclear and ambiguous relationship with the lead singer of his band. His youngest daughter Ali seems to be the most normal person among the three siblings, but she also hides her own secrets. One day, Mott announced to his family that he has always been a transgender person, self-identified as female.
10. Catastrophe
Director: Ben Taylor, Jim O'Hanlon
Cast: Sharon Horgan, Rob Delaney, Ashley Jensen, Mark Bonnar
Synopsis: Irish primary school teacher Sharon is single and lives in London. She meets single American advertising executive Rob in a bar whilst he is visiting London on a business trip. They have a six-day fling and he returns to his home town, Boston. She discovers that she is pregnant by him. After she informs him of that, he moves to London and they become a couple. They married shortly before she gives birth to their son. They later have a daughter. However, living together is not easy for two people with huge cultural differences.
These TV series are carefully produced, both the script and the scenes have been polished countless times, which made the series worth watching repeatedly. The best way is to download and save the shows forever so that you can watch them at any time as many times as you like. However, restricted by Amazon's download rules, you can only download about 25 videos to Amazon's internal app and the downloaded videos can only be saved for 30 days at most. So, how can you save Amazon videos forever? Here we provide a way to help you achieve that. All you need to do is to download NoteBurner Amazon Video Downloader.
---
What is NoteBurner Amazon Video Downloader
NoteBurner Amazon Video Downloader is a professional video downloader that is dedicated to helping its users download videos from Amazon Prime Video quickly. You can choose to download a batch of videos in MP4 or MKV format at one time. The downloaded videos are of high quality (up to 1080P) and preserved with their original multilingual subtitles and audio tracks. If you meet any problem during the use of the program, free updates and support are provided for you. Moreover, you can also save the metadata of the downloaded videos and sort out the videos accordingly.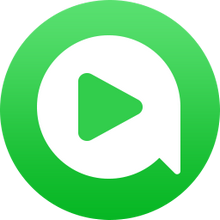 Features of Amazon Video Downloader:
Download Amazon TV serials, TV shows, movies, etc.
Support downloading Amazon video in HD quality.
Save audio tracks and subtitles automatically.
Outstanding performance & fast speed.
Flexible and easy-to-use.
Try It Free

Try It Free

1 - 12 Months
license & free upgrade
---
Tutorial: How to Download Amazon Video with NoteBurner
Before you start to read the following tutorial, please install the program on your computer first. You can install NoteBurner Amazon Video Downloader on both Windows and Mac systems.
Step 1 Log-in Amazon Account
Run Amazon Video Downloader, and type any random words into the search box, then a pop-up window will prompt you to log in to your Amazon account. Please log in to your account.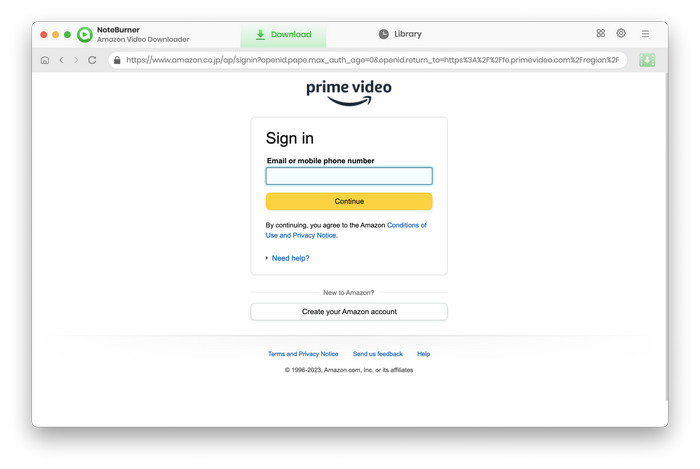 Step 2Set Output Settings
Next, you can customize the output settings according to your needs. You can click the Settings button on the upper right corner to activate the window. You can choose the video format (MP4 or MKV), quality (High, Medium, and Low), output folder, etc.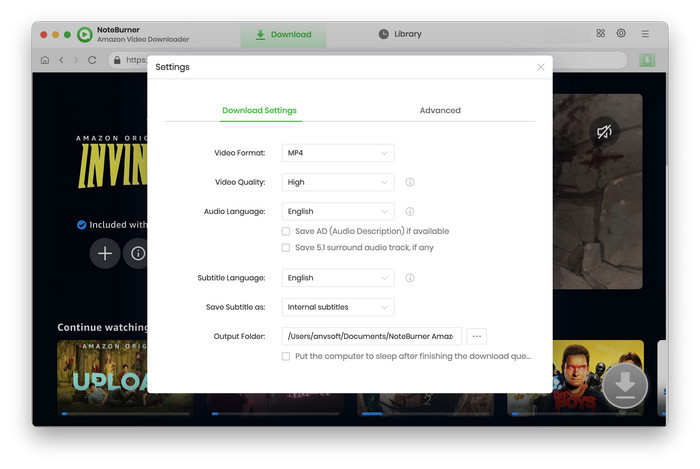 Step 3Search Videos You Want to Download
The program enables you to search for the video you want to download by entering the name of the video or copying and pasting the link of the video into the search box. All the relevant results will be listed by the program.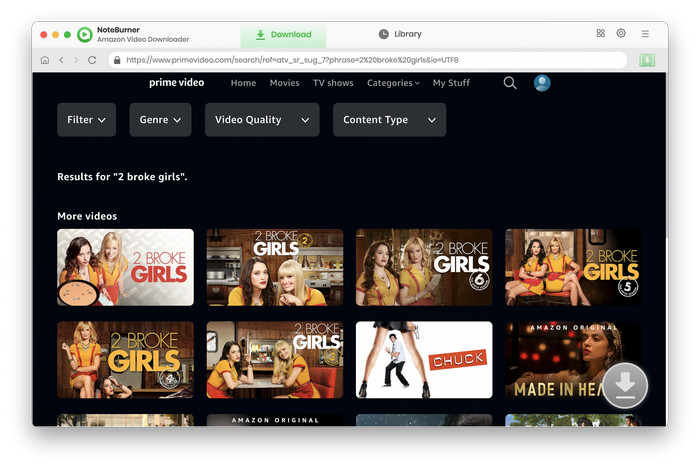 Step 4 Customize Advanced Settings
Before you get to download the video, you can select the Advanced Download options first.
If the video you want to download is a TV show, you can click the Download icon, where you can choose the seasons and titles, and then click the Advanced Download icon to select the video quality, subtitle language, and audio track.
If the video you want to download is a movie, you can click the Advanced Download icon, which is next to the Download icon, to open the window and choose the options.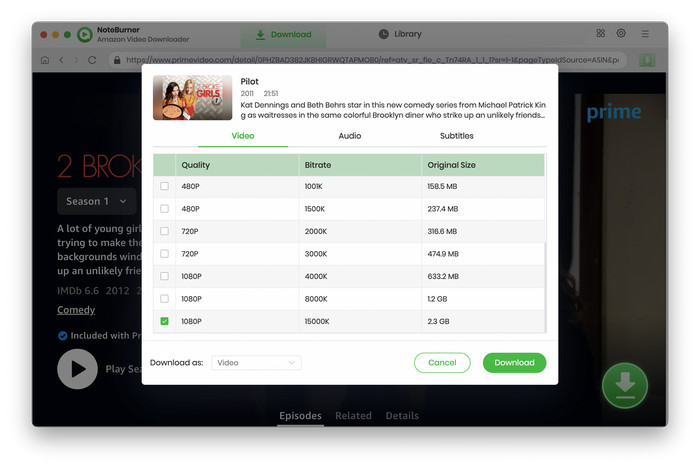 Step 5 Download Amazon Prime Videos
Now it is time to download the video. You can simply click the Download icon and the program will automatically download the video to the output folder that you have selected previously in Step 2. To check the downloaded video, you can click the Library. Also, you can click the File icon to locate the downloaded video.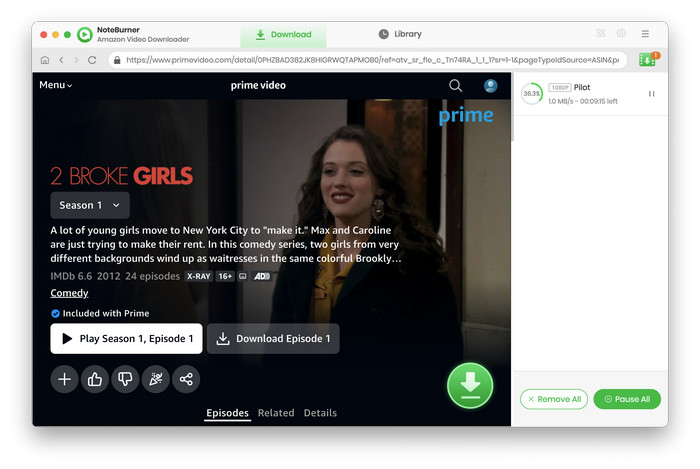 Final Word
After the download, you can then enjoy the TV shows without any limitations. You can play them as many times as you want on any device you like. Install NoteBurner Amazon Video Downloader to enjoy those excellent Amazon TV shows now!
Note: Only the first 5 minutes of each video can be downloaded with a trial version, please purchase a license to enjoy the full video. It is suggested that to download the trial version and have a test before purchasing it.