"Now my media library is burgeoning and I need to move my iTunes library to other hardware for storing, mostly for performance reasons. I am considering the best hardware—as in very small and portable—so I can always have the library with the laptop. So far an SD card looks like my best option, followed by a hearty thumb drive. How can I achieve this goal? Note that I do regularly back up everything to back up hard drives, once a week at the minimum."
Those guys who have this kind of problem really need some fantastic tool to help them deal with it. In many situations, small and portable sd card can bring much more convenience than big and heavy hard drive, especially when you need to carry it and move sources frequently.
But even you can import iTunes content into sd card and copy them to other non-apple devices, you can still not play it because they are protected by DRM. So is there any method to make this possible? You may answer YES after you view the tutorial below.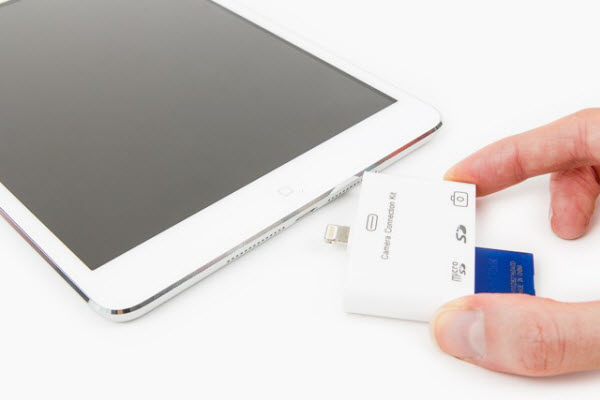 Here you need, NoteBurner M4V Converter Plus, a professional iTunes M4V video converter which can help you record and convert iTunes movies and TV shows losslessly to various video formats with 20X faster speed. After the conversion, you can import the converted files to your sd card and carry it to anywhere for playback. NoteBurner M4V Converter Plus can also enable you keep iTunes rentals forever!
Please download the program on your Mac or Windows PC first for preparation.

Tutorial 1: How to Store iTunes Music on SD Card?
Things You'll Need: iTunes, Computer, SD Card.
Step 1:Check your computer for a built-in SD card reader, which is roughly an inch wide and a quarter of an inch thick. It is marked "SD card." If you do not have this card reader, you can purchase an external one from most electronic and computer stores.
Step 2: Connect the external SD card reader (if you do not have an internal card reader) to one of your computer's USB ports.
Step 3: Insert the SD card into the SD card reader, then select "Start," "Computer" and double-click the removable device icon. A new window will open with all the files currently stored on the SD card.
Step 4: Launch iTunes. When the program opens, click "Music" in the top left corner of the screen. All of the musical tracks will appear in the middle of the display.
Step 5: Click-and-drag the audio tracks you want to copy into the removable device window. A progress bar will appear that displays the amount of time you have before the copying is finished.
Step 6: Close the removable device window once the copying has finished, then right-click the removable device icon and select "Eject." When the icon disappears from the screen, you can remove it from the SD card reader.
Tutorial 2: How to Store iTunes Movie on SD Card?
Step 1: Add Movies/TV Shows from iTunes
Launch NoteBurner M4V Converter Plus, click on the Add Movies button, then you will see the pop up windows which will show you all the iTunes purchases and rentals. This iTunes DRM removal software enables you to add your iTunes video from the needed media catalog such as Movie, TV Shows, etc.
Step 2: Custom output video according to your need
The added video will show up on the main panel after adding. Then you just need to choose the output format by activating the dropdown list on the left-bottom corner. There are plenty of output formats available to choose, you can set output format for each video respectively according to your need.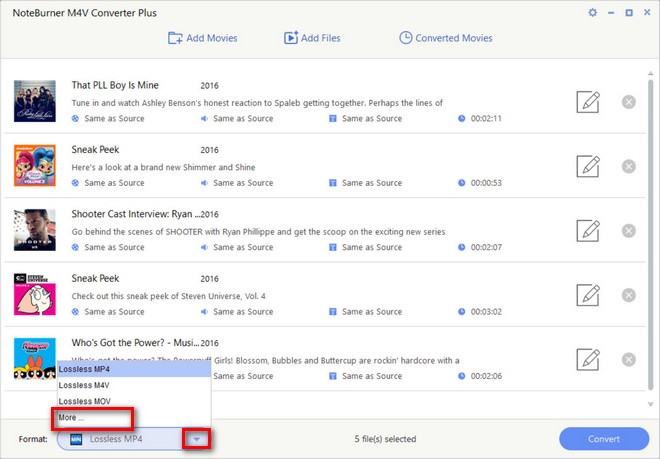 Step 3: Convert iTunes Movies/TV Shows
When finishing customization, click on the Convert button at the bottom to start the conversion. During the conversion, please make sure you are not clicking on the button to control iTunes. Then you just need to wait till the conversion is completed.