"Did YouTube ban its download function? Why can't I download any YouTube video?"
"YouTube did not ban its download function. However, YouTube does not have an official download function for all videos."
YouTube does offer a download feature for some videos within the YouTube app, which allows users to download videos and watch them offline within the app. However, this feature requires a YouTube Premium account (obviously paid) and is only available in certain countries and on certain videos.
Even though the YouTube Premium is available in your location, you can download videos to your computer or mobile device, you should also be aware that downloaded videos can be played offline for up to 29 days. After that, you'll need to reconnect your device to the internet. Reconnecting will allow the app to check for changes to the video or its availability. If a video is no longer available for offline playback, it will be removed from your device during the next sync.
You may wonder if there is a way to remove YouTube download limits and enjoy any YouTube video offline. So, here we can provide you a solution to remove the limits by downloading YouTube video as local files to your computer. To achieve that, you need a professional third-party tool to assist you.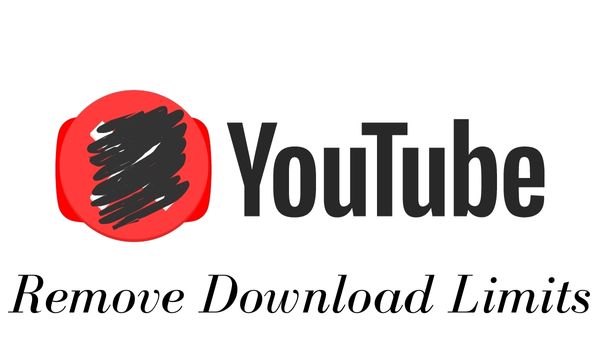 ---
YouTube Video Downloader
NoteBurner YouTube Video Downloader is a reliable and user-friendly program designed to facilitate the downloading of videos from YouTube. Unlike many other similar programs, NoteBurner does not bundle any additional software with its installation package, ensuring that users have a smooth and hassle-free experience. One of the key features of the program is its ability to download videos in high-definition (HD) quality, with the maximum supported resolution being 8K. Moreover, the program allows users to download videos with their original subtitles and audio tracks, giving them an immersive viewing experience.
It's worth noting that the output quality of the video downloaded using NoteBurner is dependent on the original quality of the video. This means that if the original video is of standard definition, the quality of the downloaded video won't exceed the original quality. However, the program still ensures that the video is downloaded in the best possible quality to ensure that users have an enjoyable viewing experience.
Features of YouTube Video Downloader:
Download any video from YouTube for free.
Support downloading music from YouTube.
Best video quality, fast speed.
User-friendly and intuitive interface, easy to use.
No bundled program or extra fee.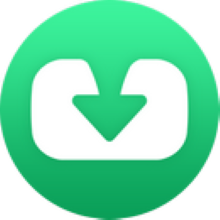 Tutorial: How to Remove YouTube Download Limits
Before you begin reading the following tutorial, it is recommended that you install the latest version of NoteBurner YouTube Video Downloader on your Windows or Mac computer. This software is available for both systems and can be easily downloaded from the official website.
1

Launch YouTube Video Downloader

Please launch NoteBruner YouTube Video Downloader on your computer and there will be a concise interface.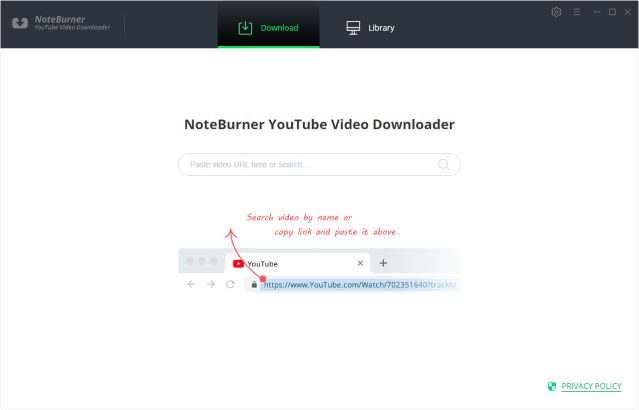 2

Customize Output Settings

Next, you can customize the output settings by clicking on the

button located in the upper right corner. From there, you can adjust various settings such as the video quality (High, Medium, or Low), subtitle language, output path, and more. Additionally, the simultaneous download option allows you to specify the number of videos you want to download at the same time, giving you greater control over your downloads.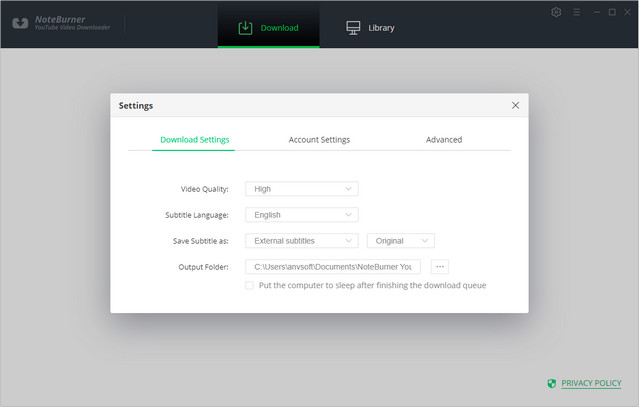 3

Add Video

Now, you can add the YouTube video to NoteBurner. You can add it by copying and pasting the link or entering the keywords of the video into the search box. All related results will be listed if you enter the keywords.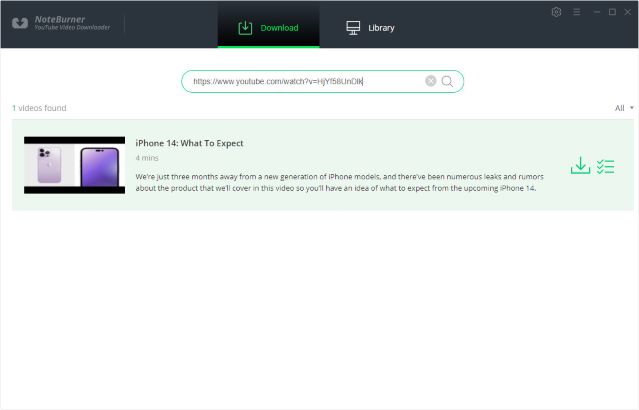 4

Choose Video/Audio Format and Quality

Before downloading a video, you can first choose advanced settings by clicking the

icon in the corner to open the Advanced Download window. Here, you can select the video/audio format and quality.
To download a video, select "Download as Video" in the bottom left corner, and choose your desired audio and subtitle options in their corresponding columns. If you prefer to download only the audio, select "Download as Audio". NoteBurner also offers the option to download subtitles as separate files by choosing "Download as Subtitles".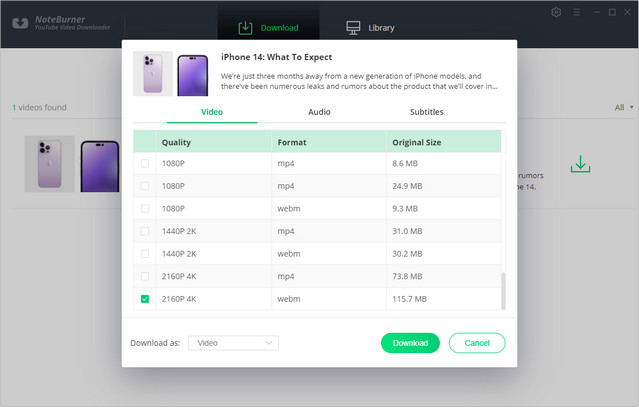 5

Download YouTube Video to PC

Once you have selected your desired settings, click the download icon and the video will be automatically saved to the folder you selected in Step 2. You can view your downloaded video by clicking on the Library icon, or locate it directly through the File icon. Now the video is downloaded as a local file to your computer and you can then enjoy it without limits.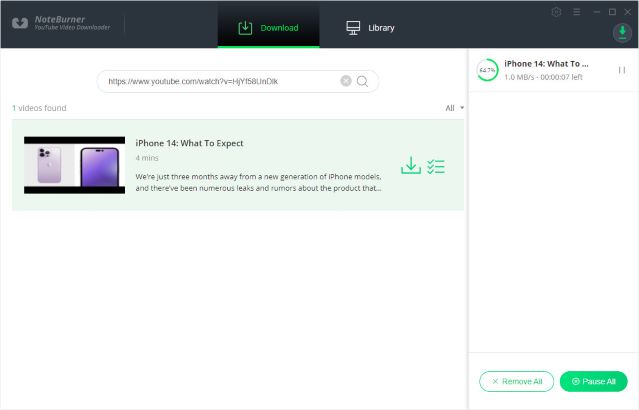 Conclusion
In conclusion, NoteBurner YouTube Video Downloader is an excellent program for anyone looking for a reliable and user-friendly video downloader. With its support for high-quality video downloads and original audio tracks and subtitles, it is a must-have tool for anyone who enjoys watching videos on YouTube. Install it and remove YouTube download limits now!
Extra tips: If you are also looking for a tool to download Amazon videos, we do have a recommendation for you to download the movies or TV shows from Amazon. Amazon Video Downloader works the same pattern as YouTube downloader, you can simply search the video or copy the URL link from Amazon, and the videos will be downloaded right away.