Top 10 Most Viewed YouTube Videos
YouTube is so popular over the world and numerous people upload countless videos on it every day. People may be confused about what to watch on YouTube, here we are going to introduce the top 10 most viewed YouTube videos for you.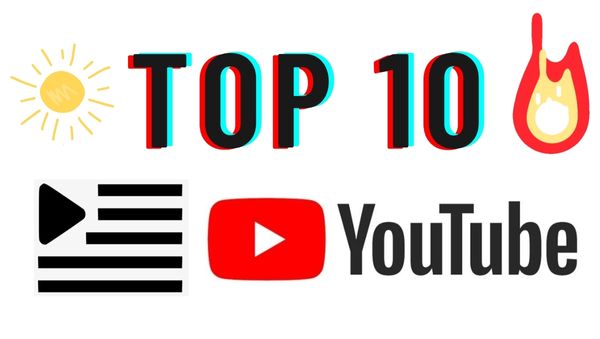 ---
1. "Baby Shark Dance" by Pinkfong (uploaded on June 17, 2016, 10.98 billion views)
"Baby Shark Dance" is a children's song and associated dance that almost every parent has watched. If you are looking for a video for your child, this must be on your playlist.
2. "Despacito" by Luis Fonsi feat. Daddy Yankee (uploaded on January 12, 2017, 7.91 billion views)
If you are interested in Spanish songs, Despacito is definitely what you should listen to. This song is sung by Puerto Rican singer Luis Fonsi, featuring Puerto Rican rapper and singer Daddy Yankee.
3. "Johny Johny Yes Papa" by LooLoo Kids (uploaded on October 8, 2016, 6.39 billion views)
Johny Johny Yes Papa shares the same melody as Twinkle, Twinkle, Little Star, yet the story is about family lies and sugar abuse. People describe it as disturbing and nonsensical.
4. "Shape of You" by Ed Sheeran (uploaded on January 30, 2017, 5.77 billion views)
If you are a fan of Ed Sheeran, you cannot miss this song, which is one of his most famous works. In 2021, Billboard ranked "Shape of You" as the tenth most successful song of all-time.
5. "See You Again" by Wiz Khalifa feat. Charlie Puth (uploaded on April 6, 2015, 5.57 billion views)
See You Again is the soundtrack of Fast and the Furious 7, which is created as a tribute to actor Paul Walker, who died in a single-vehicle accident.
6. "Bath Song" by Cocomelon Nursery Rhymes (uploaded on May 2, 2018, 5.52 billion views)
Bath Song is a song about hygiene yet it may be a little bit creepy to someone as the characters may drive them into the uncanny valley. It also flips the tracks of The Itsy-Bitsy Spider and Baby Shark Dance to the tune.
7. "Phonics Song with Two Words" by ChuChu TV (uploaded on March 6, 2014, 4.73 billion views)
Phonics Song with Two Words is another teaching song for children, in which the character will use two words to teach children to learn the alphabet.
8. "Uptown Funk" by Mark Ronson feat. Bruno Mars (uploaded on November 19, 2014, 4.63 billion views)
Another hit song by Mark Ronson and Bruno Mars! This song topped the charts of 19 countries and reached the top 10 of 15 others, making it the most successful single of Ronson and Mars to date.
9. "Learning Colors – Colorful Eggs on a Farm" by Miroshka TV (uploaded on February 27, 2018, 4.59 billion views)
Learning Colors – Colorful Eggs on a Farm is a Russian educational video aimed at children. This video teaches children to learn about six colors: black, brown, pink, white, red and blue.
10. "Masha and The Bear – Recipe for Disaster" by Get Movies (uploaded on January 31, 2012, 4.50 billion views)
Masha and The Bear is a Russian animated television series and Recipe for Disaster is one of the episodes. In this episode, Masha cooked too much food, causing a disaster for The Bear.
Since Charlie Bit My Finger was sold to a private buyer at 760 thousand dollars, you may be worried that other popular YouTube videos could be sold and never be seen. Don't worry, install NoteBurner YouTube Video Downloader to download them and save them forever!
---
YouTube Video Downloader
NoteBurner YouTube Video Downloader is a free tool dedicated to helping you download videos from YouTube. You can choose to download YouTube videos in MP4, MKV, or WebM format. The downloaded videos can maintain high quality (up to 8K) and even keep the original subtitles. You can download the videos at a lightning speed. The program is completely free and has no bundled programs.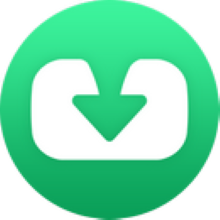 Features of YouTube Video Downloader:
Download any video from YouTube for free.
Support downloading music from YouTube.
Best video quality, fast speed.
User-friendly and intuitive interface, easy to use.
No bundled program or extra fee.
Try It Free

Try It Free

100% Free
license & free upgrade
---
Tutorial: How to Download YouTube Video with NoteBurner
Before reading the following tutorial, please install the program on your computer first.
1

Launch YouTube Video Downloader

Launch NoteBruner YouTube Video Downloader on your computer, following you can see a concise interface.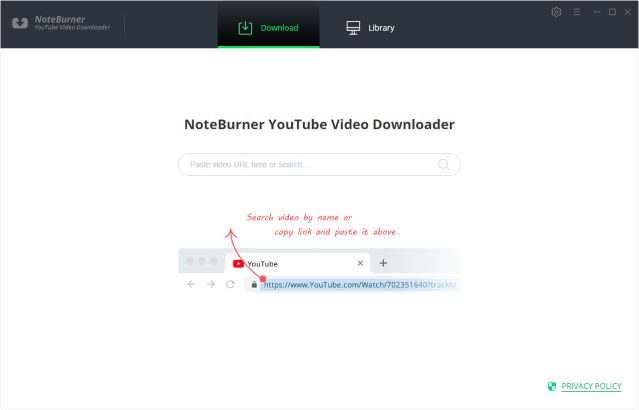 2

Customize Output Settings

Next, you can click the Settings button to choose the output settings. You can choose the output quality, subtitle language, simultaneous download, output path, etc. In the simultaneous download option, you are allowed to choose how many videos you can download at one time.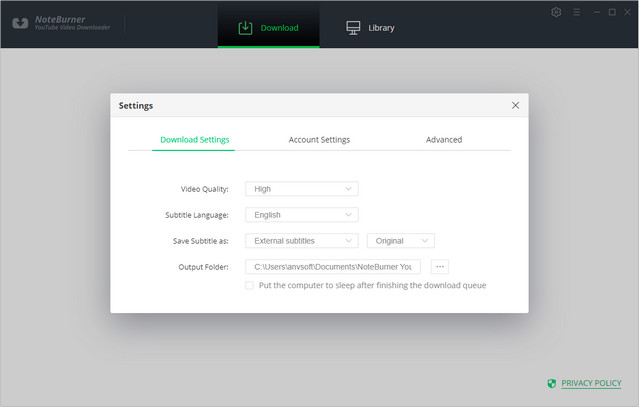 3

Add Video

Then you can add the video by copying and pasting the link or entering the keywords of the video into the search box.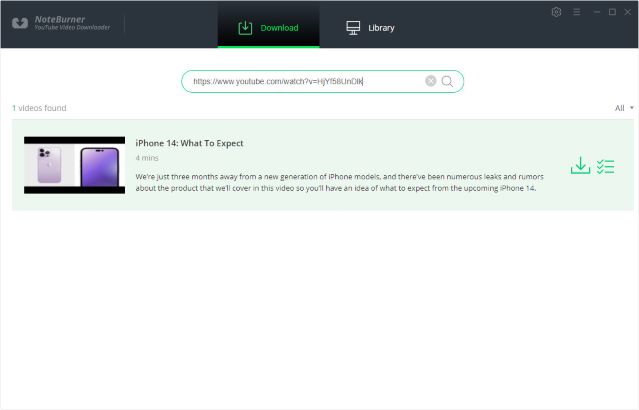 4

Choose Video/Audio Format and Quality

Now you can select the Advanced Download options such as the quality, format, original size, subtitle, etc.

If you want to download a video, you need to choose Download as Video in the bottom left corner. Also, you can select the audio and subtitle options in their corresponding columns. If you want to download an audio file, you can choose Download as Audio. You cannot select options in the Video and Subtitle columns. NoteBunrer also allows you to download subtitles as separate files. To do that, simply choose Download as Subtitles.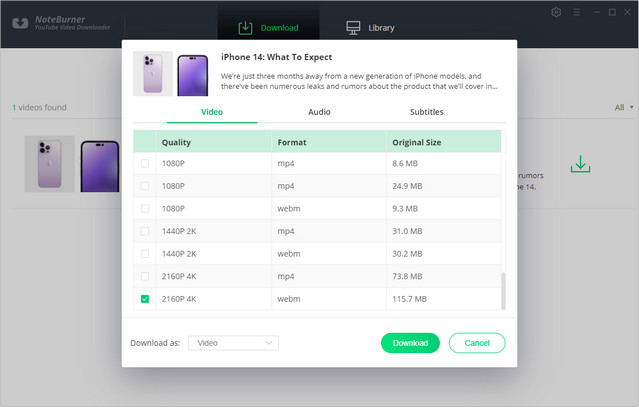 5

Download YouTube Video to PC

Click the Download icon and the video will be saved to the output folder you have selected in Step 2. You can check the video in the Library and locate it by clicking the File icon.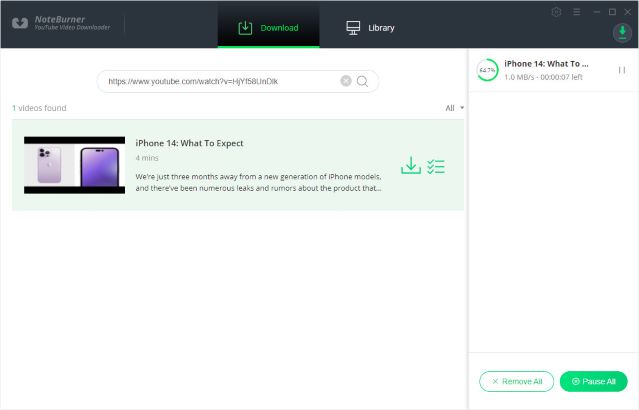 Conclusion
Select videos that you are interested in and download them with one click. With NoteBurner YouTube Video Downloader, you can download all your favorite YouTube videos for free and save them forever. Also, you can transfer the videos to any device you want. Install it and have a try now!
---