With the advancement of technology, there is an increasing abundance of high-quality movies available for people to enjoy during their leisure time. Simultaneously, there is a growing emphasis on enhancing the viewing experience, with movies now being offered in full HD, 4K, and even 8K resolutions on more platforms. When it comes to watching 4K movies, one of the first platforms that often comes to mind is Amazon Prime Video. As a globally recognized video streaming service, Amazon Prime Video offers a vast collection of 4K movies. In the following sections, we will present a list of the top ten 4K movies available on Amazon Prime Video and provide guidance on how to download them for offline viewing.
10 Best 4K Movies on Amazon Prime Video
1. Manchester by the Sea
Director: Kenneth Lonergan
Cast: Casey Affleck, Lucas Hedges, Michelle Williams
Synopsis: Lee lived alone in Boston and worked as a handyman in an apartment building. When he learned that his brother Joe had passed away due to heart disease, he drove back to his hometown of Manchester, a land full of heartbreaking memories. According to his brother's will, Lee needs to assume the guardianship of his nephew Patrick. Lee wants to take Patrick back to Boston, but Patrick is unwilling to leave his hometown.
2. Spider-Man3
Director: Sam Raimi
Cast: Tobey Maguire, Kirsten Dunst, James Franco
Synopsis: After Spider-Man became a respected American hero, Peter, who was parasitized by an alien symbiote, gradually became arrogant and evil in his heart. While fighting against his own darkness, Peter also needs to fight against the Green Goblin II. Venom and Sandman.
3. Star Trek Beyond
Director: Justin Lin
Cast: Chris Pine, Zachary Quinto, Karl Urban
Synopsis: Captain Kirk and the crew of the Enterprise came to an unknown area of the galaxy and began to complete their five-year mission - to explore new worlds and find new species. But on the way, they were stranded on an alien planet and were hunted down by local races. They had to find a way to leave the planet.
4. John Wick 3 - Parabellum
Director: Chad Stahelski
Cast: Keanu Reeves, Halle Berry, Laurence Fishburne
Synopsis: After John Wick experienced the first two hunts and special attacks, he was hunted down with a reward of 14 million US dollars for killing a member of the High Table. Killers from all over the world heard the news and chased him all the way. John contacted his former teammate Sophia and decided to plan an operation that could completely eliminate the "High Table" organization.
5. 1917
Director: Sam Mendes
Cast: George MacKay, Dean-Charles Chapman, Mark Strong
Synopsis: In 1917, when the First World War was at its peak, two British soldiers who were only 16 years old received an order to rush to the death front immediately to convey a "stop the attack immediately" message to the general there. There are only eight hours, weapons and ammunition are limited, no one knows the enemy situation ahead, and it is a dangerous situation to be killed at any time.
6. The Dressmaker
Director: Jocelyn Moorhouse
Cast: Kate Winslet, Judy Davis, Liam Hemsworth
Synopsis: Myrtle Tilly Dunnage, a dressmaker who had a successful career in Europe, returned to her small town in her hometown in Australia. In addition to taking care of her sick and mentally unstable mother, she also had to find out the truth about the boy she was framed for killing.
7. Top Gun: Maverick
Director: Joseph Kosinski
Cast: Tom Cruise, Miles Teller, Jennifer Connelly
Synopsis: After serving as a top pilot in the Navy for more than 30 years, Pete Mitchell decided to break the restrictions of the system and become a test pilot to accept a greater challenge. When he receives orders to train a group of Top Gun graduates for a difficult special mission, he meets Bradley, the son of his late friend and radar intercept officer Lieutenant Nick Bradshaw.
8. Dark Waters
Director: Todd Haynes
Cast: Mark Ruffalo, Anne Hathaway, Tim Robbins
Synopsis: Robert Bilott was a service attorney for DuPont de Nemours, a chemical company. He takes over a case of mysterious cattle deaths, and as the investigation deepens, he discovers a dark secret that will link DuPont de Nemours to a series of unexplained deaths. In order to expose the truth, he began to fight against this company, risking everything, including his future, family, and his own life.
9. Blade Runner 2049
Director: Denis Villeneuve
Cast: Ryan Gosling, Harrison Ford, Ana de Armas
Synopsis: The story is set 30 years after "Blade Runner". It tells the story of the year 2049, when humans and replicants coexist, and the conflict between the two races escalates. The new generation of Blade Runner K finds the former Blade Runner who has disappeared for many years, and teamed up to once again stop the fateful battle between humans and replicants.
10. Paterson
Director: Jim Jarmusch
Cast: Adam Driver, Golshifteh Farahani, William Jackson Harper
Synopsis: Patterson, a bus driver who lives in Patterson City, New Jersey, drives the bus through the city every day. He loves poetry and enjoys himself on this unusual journey. Patterson and his wife Laura loved each other. He was always there to support her in trying new things, and she couldn't put it down for the poems he wrote. In this ordinary city, the two wrote poetic and touching poems belonging to each other.
---
How to Watch 4K Movies on Amazon Prime
To watch 4K movies on Amazon Prime, first you must be an Amazon Prime member or subscribe to Amazon Prime Video. This way you can watch most of Amazon Prime's 4K movies for free. If you don't have a subscription plan, you can only rent or buy 4K movies.
Now, here are several methods for you to find and watch 4K movies on Amazon Prime:
1. Search for 4K content in the app or on the web using a phrase like Amazon 4K movies.
2. Browse through "Prime Video" section and select the format of 4K Ultra HD in the Amazon website.
3. Type the title of the movie in the search bar. Then check whether there is a UHD or 4K icon mentioned. If there is, it indicates this title can be played in the resolution you want.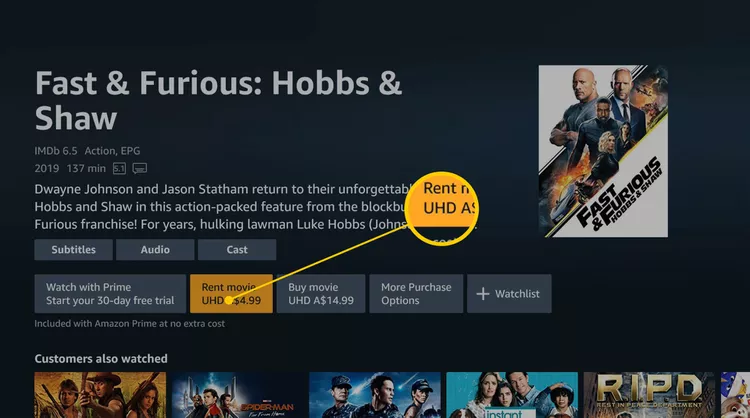 How to Download Movies for Offline Viewing
Is it possible to download the video to your computer for offline viewing on a slow network or while traveling? Absolutely! However, it's important to know that Amazon imposes limitations on the duration of time you can watch the downloaded video before it expires. What can you do if you want to save it permanently on your device? Continue reading for a step-by-step tutorial.
Tool Required: NoteBurner Amazon Video Downloader
In order to achieve the purpose of permanent storage, we need a tool that can help us convert the video to MP4/MKV format and download it. NoteBurner Amazon Video Downloader, a tool specially designed to download Amazon videos, must be the best choice for you!
NoteBurner Amazon Video Downloader allows you to save videos in MP4/MKV format, ensuring that you can retain downloaded movies on your device indefinitely. Moreover, this tool supports downloading videos with up to 1080p quality while preserving subtitles and audio tracks, including 5.1 audio. Additionally, NoteBurner enables the extraction of subtitles into separate files and facilitates batch downloads. With its fast downloading speed and user-friendly interface, NoteBurner is suitable for all users who enjoy Amazon movies or TV series.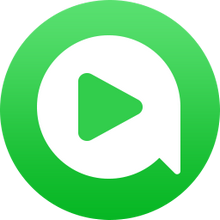 Features of Amazon Video Downloader:
Download Amazon TV serials, TV shows, movies, etc.
Support downloading Amazon video in HD quality.
Save audio tracks and subtitles automatically.
Outstanding performance & fast speed.
Flexible and easy-to-use.
Try It Free

Try It Free

1 - 12 Months
license & free upgrade
Tutorial: How to Download Amazon Videos with NoteBurner?
Please install the latest version of NoteBurner Amazon Video Downloader to your computer before reading the following tutorial.
Step 1 Log into Your Amazon Account
Launch NoteBurner Amazon Video Downloader in your computer. Then type any word in the search bar to trigger the pop-up window to log in to your Amazon account.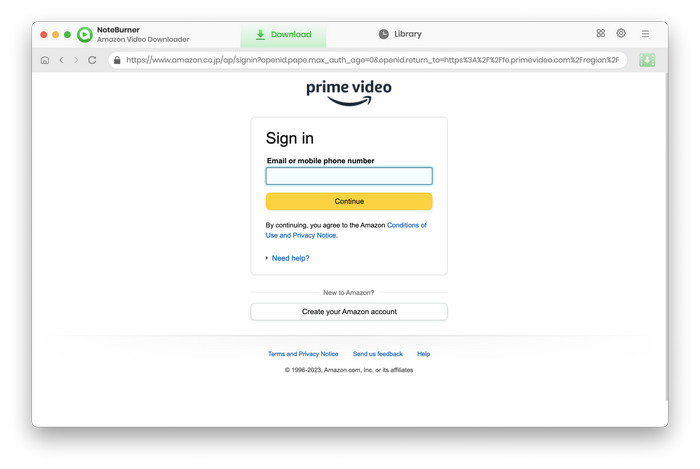 Step 2 Customize Output Settings
Before downloading, click the gear button on the top right corner to open the Settings window so that you can make some adjustments to the app's settings. Then you can set the Video Quality, change the Audio Language, Subtitle Language and more.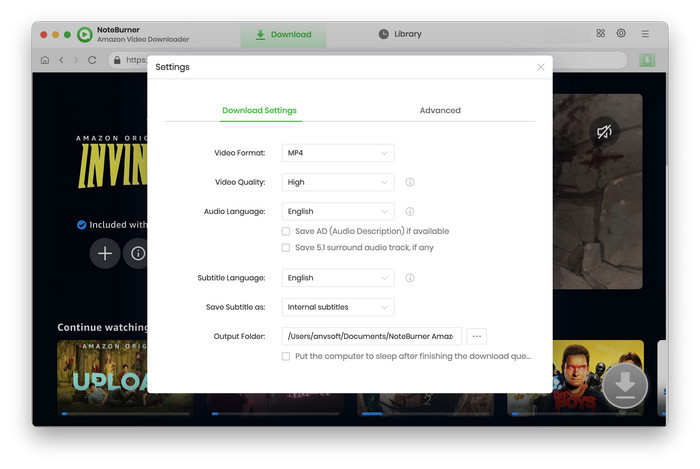 Step 3 Search for Videos
Now you can type the keyword of the video title or paste the URL of the video in the search bar. NoteBurner will present the search results to you.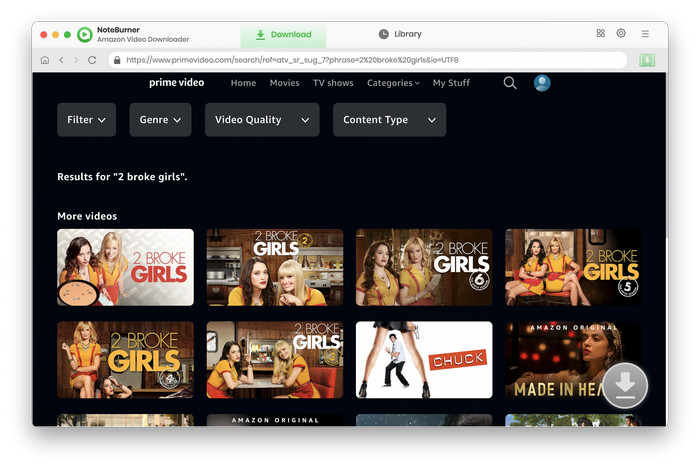 Step 4 Select Advanced Download
If you want to download a movie, please click the icon beside "Download" to open the Advanced Download window to select seasons, specific video quality, audio track, and subtitle track. If you want to download a TV series, please click the download icon to open the Advanced Download window.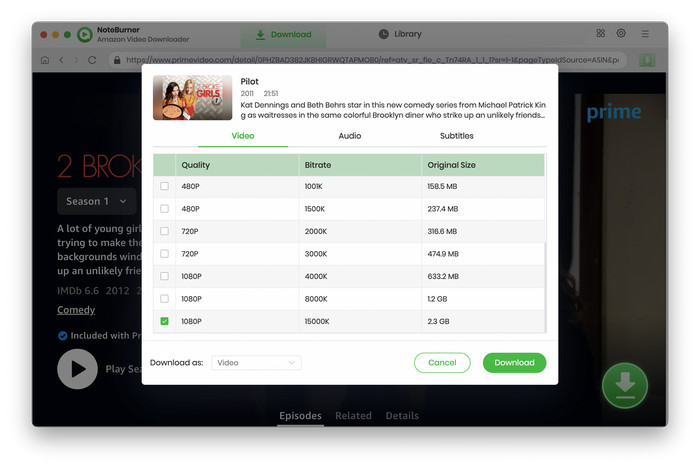 Step 5 Download Amazon Videos
After following the above steps, just click the download icon and wait for the download to complete. You can check the downloaded video in the Library when the download is finished.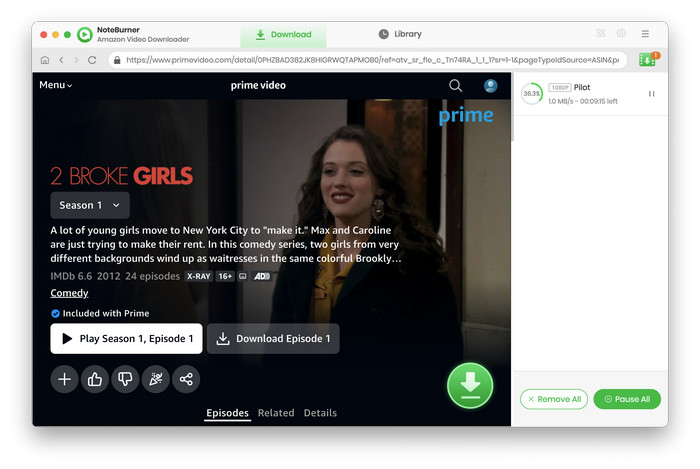 Conclusion
It's a blessing to enjoy Amazon's wonderful 4K movies, but it's frustrating to note that the expiration date of the movies means you can't watch them whenever you want. However, with the help of NoteBurner, you are not restricted by this and can enjoy the wonderful world brought to you by videos at any time. Just give NoteBurner a chance and install it now!
Note: Only the first 5 minutes of each video can be downloaded with a trial version, please purchase a license to enjoy the full video. It is suggested that to download the trial version and have a test before purchasing it.