10 Best Comedy Movies on Netflix
Laughter is the best medicine, and there's no better place to get your dose of comedic relief than on Netflix! With its vast collection of side-splitting films, the streaming platform has become a go-to destination for anyone in need of a good chuckle. So grab your popcorn, kick back, and get ready to laugh out loud as we countdown the top 10 comedy movies currently streaming on Netflix.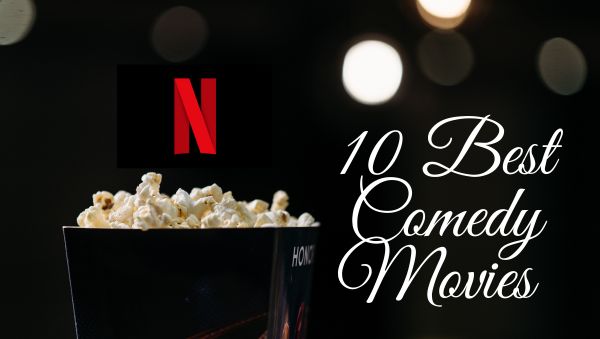 1. Ted
Creator: Seth MacFarlane
Cast: Mark Wahlberg, Mila Kunis, Seth MacFarlane
Introduction: John makes a Christmas miracle happen by bringing his one and only friend to life, his teddy bear. The two grow up together and John must then choose to stay with his girlfriend or keep his friendship with his crude and extremely inappropriate teddy bear, Ted.
2. Don't Look Up
Creator: Adam McKay
Cast: Leonardo DiCaprio, Jennifer Lawrence, Meryl Streep
Introduction: Kate Dibiasky, an astronomy grad student, and her professor Dr. Randall Mindy make an astounding discovery of a comet orbiting within the solar system. With only six months until the comet makes impact, managing the 24-hour news cycle and gaining the attention of the social media obsessed public before it's too late proves shockingly comical - what will it take to get the world to just look up?
3. The Wolf of Wall Street
Creator: Martin Scorsese
Cast: Leonardo DiCaprio, Jonah Hill, Margot Robbie
Introduction: In the early 1990s, Jordan Belfort teamed with his partner Donny Azoff and started brokerage firm Stratton Oakmont. Their company quickly grows from a staff of 20 to a staff of more than 250 and their status in the trading community and Wall Street grows exponentially. With the FBI onto Belfort's trading schemes, he devises new ways to cover his tracks and watch his fortune grow. But with the FBI watching him like a hawk, how long will Belfort and Azoff be able to maintain their elaborate wealth and luxurious lifestyles?
4. Notting Hill
Creator: Roger Michell
Cast: Hugh Grant, Julia Roberts, Richard McCabe
Introduction: Every man's dream comes true for William Thacker, an unsuccessful Notting Hill bookstore owner, when Anna Scott, the world's most beautiful woman and best-liked actress, enters his shop. Eventually, Anna and William get to know each other better over the months, but being together with the world's most wanted woman is not easy - neither around your closest friends, nor in front of the all-devouring press.
5. The Nice Guys
Creator: Shane Black
Cast: Russell Crowe, Ryan Gosling, Angourie Rice
Introduction: In 1977 Los Angeles, single father and licensed PI Holland March is hired to investigate the apparent suicide of famous porn star Misty Mountains. As the trail leads him to track down a girl named Amelia, he encounters less-licensed and less-hands-off private eye Jackson Healey and his brass knuckles, both hired by the young hippie. As both men are forced to team up, they need to take on a world filled with eccentric goons, strippers dressed as mermaids, and even a possible government conspiracy.
6. The Hangover
Director: Todd Phillips
Cast: Zach Galifianakis, Bradley Cooper, Justin Bartha
Introduction: Angelenos Doug Billings and Tracy Garner are about to get married. Two days before the wedding, the four men in the wedding party - Doug, Doug's two best buddies Phil Wenneck and Stu Price, and Tracy's brother Alan Garner - hop into Tracy's father's beloved Mercedes convertible for a 24-hour stag party to Las Vegas. The morning after their arrival in Las Vegas, they awaken in their hotel suite each with the worst hangover. None remembers what happened in the past twelve or so hours. And even worse, they may not find Doug at all before the wedding.
7. The Edge of Seventeen
Creator: Kelly Fremon Craig
Cast: Hailee Steinfeld, Haley Lu Richardson, Blake Jenner
Introduction: Everyone knows that growing up is hard, and life is no easier for high school junior Nadine, who is already at peak awkwardness when her all-star older brother Darian starts dating her best friend Krista. All at once, Nadine feels more alone than ever, until the unexpected friendship of a thoughtful boy gives her a glimmer of hope that things just might not be so terrible after all.
8. Easy A
Creator: Will Gluck
Cast: Emma Stone, Amanda Bynes, Penn Badgley
Introduction: After a little white lie about losing her virginity gets out, a clean cut high school girl sees her life paralleling Hester Prynne's in "The Scarlet Letter," which she is currently studying in school - until she decides to use the rumor mill to advance her social and financial standing.
9. The Other Guys
Creator: Adam McKay
Cast: Will Ferrell, Mark Wahlberg, Derek Jeter
Introduction: Terry Hoitz's past mistakes in the line of duty and Allen Gamble's reluctance to take risks have landed them the roles of the "Other Guys", disgraced New York City police detectives relegated to filling out paperwork for cocky hero cops Danson and Highsmith. The mismatched duo must look past their differences when they take on a high-profile investigation of shady capitalist David Ershon and attempt to fill the shoes of the notoriously reckless officers they idolize.
10. Clueless
Creator: Amy Heckerling
Cast: Alicia Silverstone, Stacey Dash, Brittany Murphy
Introduction: Cher, a high school student in Beverly Hills, must survive the ups and downs of adolescent life. Her external demeanor at first seems superficial, but rather it hides her wit, charm, and intelligence which help her to deal with relationships, friends, family, school, and the all-important teenage social life.
---
How to Watch Netflix Comedy Movies Offline?
We've all been there: you're on a long flight or stuck in a remote location with no Wi-Fi, and you're dying to catch up on your favorite shows or movies on Netflix. Fortunately, you can now watch these Netflix comedy movies offline, thanks to Netflix's download new feature. Netflix's download feature allows users to download certain TV shows and movies from the streaming platform and save them to their devices for offline viewing. To use the download feature, users must have a subscription (exclude the basic with ads subscription) and the latest version of the Netflix app installed on a compatible device.
While the ability to download Netflix videos for offline viewing is a useful feature, there are some limitations to keep in mind. Not all titles on Netflix are available for download, and there are limits on how many titles you can download at once, as well as how long you can keep them. In addition, not all devices are compatible with the download feature, and downloading videos can take up a significant amount of storage space on your device. Finally, depending on your location, you may be restricted from downloading certain content due to regional limitations.
---
How to Get Rid of Netflix Download Limits?
It's easy to get rid of these download limits if you use a professional video downloader, which can help you download the comedy movies from Netflix as local files, thus you can save them forever and transfer them to any device you like for offline playback.
NoteBurner Netflix Video Downloader is a powerful tool that enables Netflix users to download any movie or TV show in MP4/MKV format with lightning-fast speed, while preserving multilingual audio tracks and subtitles. With the ability to search for videos using keywords or links, users can easily find the content they want to download. NoteBurner's H.265 codec accelerates the download process, and users can choose the download quality, subtitle language, and audio track in the advanced download window. To meet users' various needs, NoteBurner offers three types of subtitles (internal, external, and hardcode). In addition, the metadata information of downloaded videos is available to help users sort and manage their content efficiently.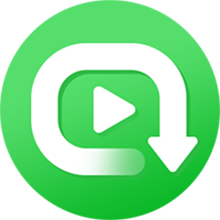 Features of Netflix Video Downloader:
Download Netflix movies, series and documentaries.
Save Netflix videos in MP4 or MKV format.
Kept up to 1080p video quality.
Preserve audio tracks and subtitles in many languages.
Flexible and easy to use.
Try It Free

Try It Free

Windows 7, 8, 10, 11, and macOS 10.15 or later
---
How Does NoteBurner Netflix Video Downloader Work?
In the following tutorial we will show you how NoteBurner Netflix Video Downloader works. You can install the latest version of NoteBurner and try it on your own computer. The program can be downloaded on both Windows and Mac computers.
1

Log in to Netflix account

Launch NoteBurner on your computer and type any word into the search box to pop up a window, which will promote you to log in to your Netflix account. Please log in to your account as required to proceed.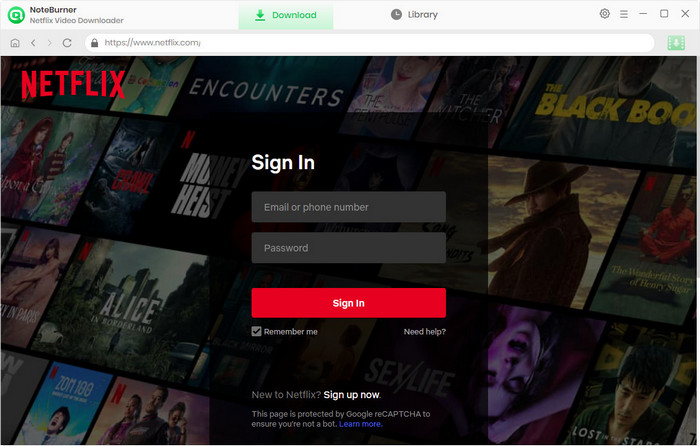 2

Customize Output Settings

You can open the Setting window by clicking the Gear icon to customize the output settings such as video format, video quality (Low, Medium, and High), output folder, etc.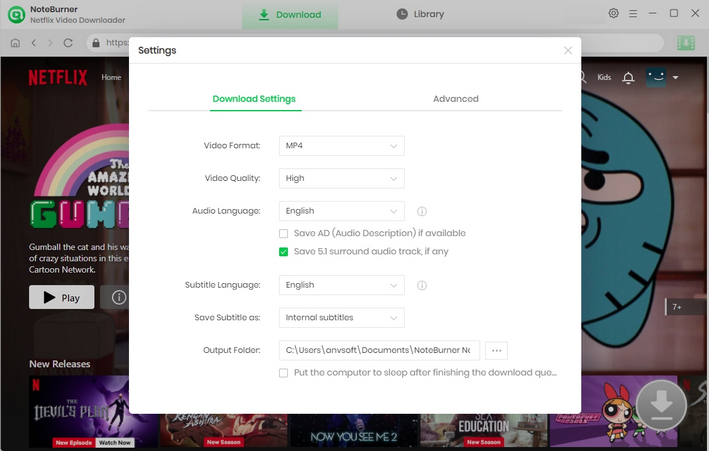 3

Search for Video

You can enter the name or keywords of the comedy you want to download, or just directly copy and paste the link of it into the search bar. You can also search for your favorite TV series if you want and Noteburner will list all seasons for you.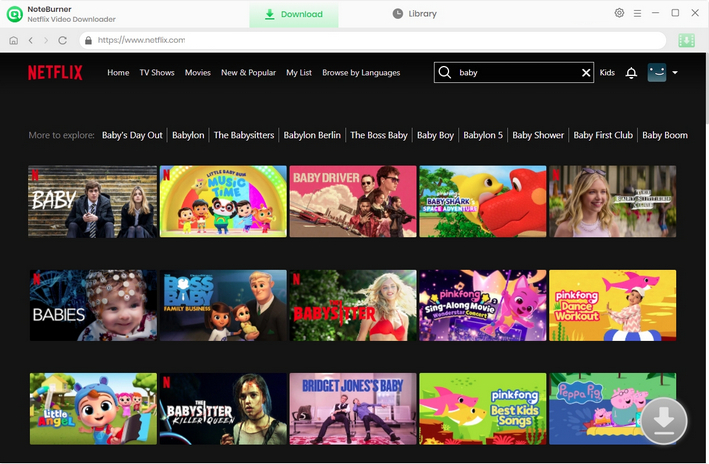 4

Select Output Audio Track and Language

NoteBurner Netflix Video Downloader offers the flexibility to select your preferred audio track and subtitle before downloading your content. If you're downloading a TV show, simply click the

icon and select the titles and seasons you want to download. Then, click the

icon in the bottom left corner to choose your audio track and subtitle options. For movie downloads, simply click the

icon to access the Advanced Download window.
It's important to note that NoteBurner can only offer a maximum resolution of 720P for Ad-Supported plan subscribers.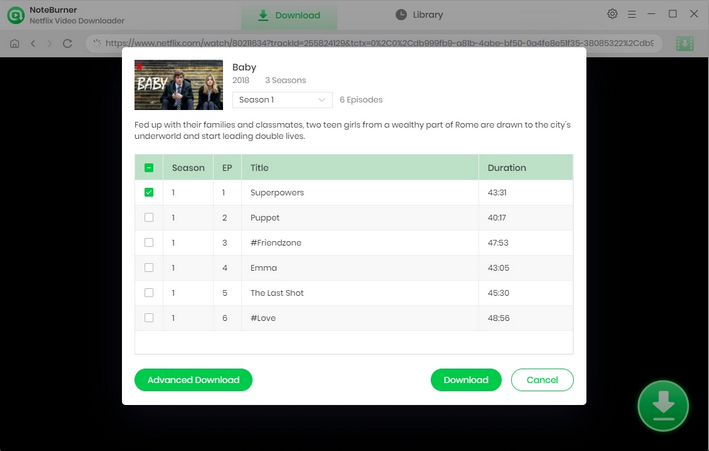 5

Start to Download Video

Once you've selected your preferred audio track and subtitle options, click the Download button to initiate the download process. NoteBurner will save the downloaded video to the folder you selected earlier. To monitor the download progress, check the right-hand side of the interface. Once the download is complete, you can access your downloaded video by clicking on the Library tab. To locate the downloaded video file on your computer, click on the File icon.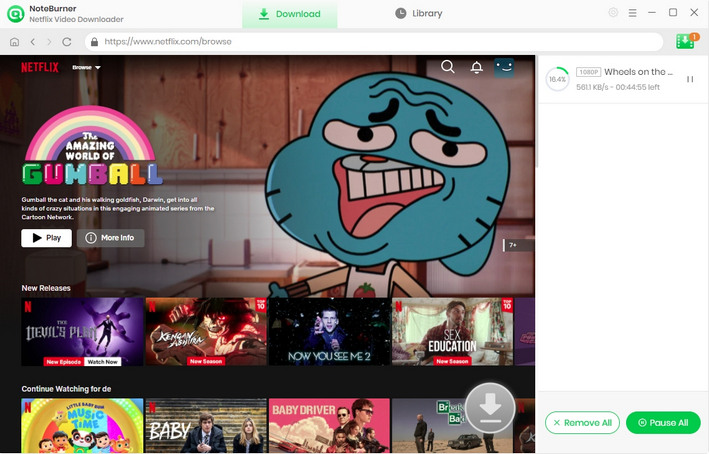 ---
Conclusion
In conclusion, Netflix offers a wide variety of comedy movies that are perfect for a good laugh. From classic comedies to modern hits, there's something for everyone on the platform. Whether you're in the mood for witty banter, over-the-top humor, or heartwarming moments, Netflix's comedy selection has got you covered. With the ability to download titles for offline viewing using the platform's download feature or a third-party tool like NoteBurner Netflix Video Downloader, you can enjoy your favorite comedies anytime, anywhere. So grab some popcorn, cozy up on the couch, and get ready for a hilarious movie night with these top 10 comedy movies on Netflix.
Note: Only the first 5 minutes of each video can be downloaded with trial version, please purchase a license to enjoy the full video. It is suggested that to download the trial version and have a test before purchasing it.