10 Best Christmas Movies on Netflix 2022
No matter where you live, no matter what the weather is, the calendar will never lie: it's the annual Christmas carnival season. There are many activities you can do to get in the holiday spirit, but sitting in front of the TV and watching some Christmas-themed Netflix movies must be the top of your list. After baking the biscuits and decorating the Christmas tree to make yourself exhausted, you might as well let some relaxing and joyful Christmas movies relieve your fatigue. The good news is that you no longer need to spend a lot of time on your own to find holiday-related movies - we have summarized a list of movies for you: the 10 best Netflix Christmas movies in 2022. If you are interested, please continue reading. This list will warm you up throughout the Christmas season.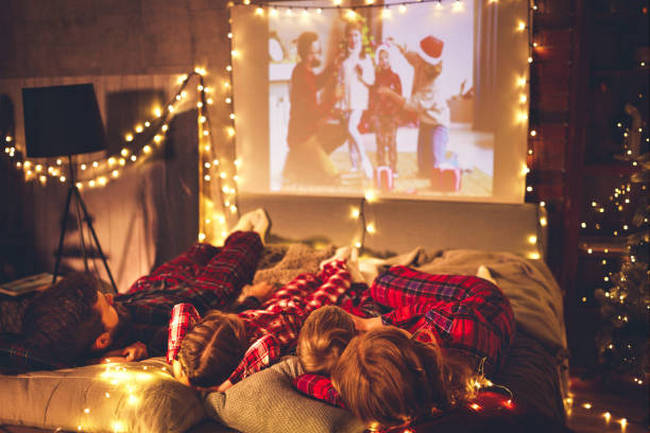 ---
1. Jingle Jangle: A Christmas Journey
Director: David E. Talbert
Cast: Forest Whitaker, Madalen Mills, Keegan-Michael Key, Hugh Bonneville, Anika Noni Rose, Phylicia Rashad, Lisa Davina Phillip, Ricky Martin
Introduction: Jeronicus Jangle is a fantastical inventor who has fallen on hard times and faces closure of his once-merry store in JINGLE JANGLE: A CHRISTMAS JOURNEY. In fact, his bad luck began years earlier when disgruntled apprentice Gustafson (Keagan-Michael Key) started stealing his best inventions, including and encouraged by the talking matador doll, Don Juan (Ricky Martin). Then Jeronicus' wife dies and his daughter moves away. Flash forward many years to a first visit from his granddaughter, Journey (Madalen Mills). Jeronicus must now find a way to open himself up to love again and also to save his store from bankruptcy. The only insurance the bank will accept is a revolutionary new invention.
2. The Holiday
Director: Nancy Meyers
Cast: Cameron Diaz, Kate Winslet, Jude Law, Jack Black, Eli Wallach, Edward Burns, Rufus Sewell
Introduction: Trying to forget a romance gone wrong, London-based journalist Iris trades her cottage for movie-trailer-editor Amanda's Beverly Hills mansion. Amanda is also angry at an ex-boyfriend. Book editor Graham shows up drunk on the English cottage porch, expecting to be put up by his sister (Iris). He winds up having sex with lonely, angry, and perfectly witty Amanda instead. In L.A., Iris is charmed by her retired screenwriter neighbor, but soon finds her age-appropriate mate in composer Miles, who's grappling with his own relationship troubles, but seems instantly attracted to Iris as well.
3. The Christmas Chronicles
Director: Clay Kaytis
Cast: Kurt Russell, Judah Lewis, Darby Camp, Lamorne Morris
Introduction: THE CHRISTMAS CHRONICLES tells how siblings Teddy and Kate sneak onto Santa's sleigh on Christmas Eve, making the sleigh crash and Santa lose his magic hat and sack full of toys. Oh, and to top it all off, the reindeer are also MIA. If Santa doesn't deliver Christmas in time, the world will descend into another Dark Age where violence and chaos rule the day. So the three of them set out to make things right by retrieving the lost items and getting Santa's elves to help repair the sleigh. Along the way, Teddy steals a car (well, borrows a stolen car, really), Santa gets thrown in jail, and Kate finds herself alone in Santa's workshop at the North Pole. Can the three work together to save Christmas?
4. The Princess Switch
Director: Mike Rohl
Cast: Vanessa Hudgens, Sam Palladio, Nick Sagar
Introduction: Stacy, a type-A planner with a penchant for schedules, takes a spontaneous trip to the charming land of Belgravia at the suggestion of her sous chef and best friend, Kevin. While preparing for the Royal Christmas Baking Contest, Stacy faces an identical stranger and a strange request. Free-spirited but royally obligated, all Duchess Margaret Delacourt really wants is one last chance to experience life as a "normal person" before she dutifully marries the Crown Prince of Belgravia. Stacy can give her that wish.
5. The Knight Before Christmas
Director: Monika Mitchell
Cast: Vanessa Hudgens, Josh Whitehouse, Emmanuelle Chriqui
Introduction: A knight from 1334, Sir Cole, time-travels to present-day Ohio and meets a science teacher, Brooke, after she accidentally hits him with her car. The doctors think Sir Cole has a head injury, which is why they aren't fazed when he says he's from medieval times. They think his memory will return in time and he'll be back to "normal." But days go by, and Sir Cole still contests he's a knight. Brooke starts to wonder whether he's telling the truth, until—spoiler alert—she realizes he very much is, and they live happily ever after.
6. A California Christmas
Director: Shaun Piccinino
Cast: Lauren Swickard, Josh Swickard
Introduction: TV anchor Emery Bliss can't imagine anything more humiliating than the sex tape her ex revenge-posted online. That is, until it causes her to lose her job on top of her self-esteem. Seeking solace—and anonymity—in Silver Springs, Emery isn't looking to get involved with another man any time soon. But when she's thrown back into contact with Dallas Turner, she sees something that his many detractors have missed. Both Emery and Dallas had been planning on a quiet, solitary Christmas, but the sparks between them are lighting a fire strong enough to last—possibly forever.
7. Little Women (2019)
Director: Greta Gerwig
Cast: Saoirse Ronan, Emma Watson, Florence Pugh, Eliza Scanlen, Laura Dern, Timothée Chalamet, Meryl Streep, Tracy Letts, Bob Odenkirk, James Norton, Louis Garrel, Chris Cooper
Introduction: In the years after the Civil War, Jo March lives in New York and makes her living as a writer, while her sister Amy studies painting in Paris. Amy has a chance encounter with Theodore, a childhood crush who proposed to Jo but was ultimately rejected. Their oldest sibling, Meg, is married to a schoolteacher, while shy sister Beth develops a devastating illness that brings the family back together.
8. Happiest Season
Director: Clea DuVall
Cast: Kristen Stewart, Mackenzie Davis, Alison Brie, Aubrey Plaza, Dan Levy, Mary Holland, Victor Garber, Mary Steenburgen
Introduction: This romantic comedy is about longtime lesbian couple Abby (Kristen Stewart) and Harper (Mackenzie Davis), who made plans to go home to the latter's family for the Christmas holidays. Aside from spending the yuletide season with Harper's conservative parents, Abby is also planning to spring a marriage proposal on Harper. Trouble begins, though, when she discovers that Harper hasn't come out as a lesbian yet to her family, leaving them clueless as to who Abby really is in her life. Co-written and directed by Clea Duvall. Co-starring Dan Levy, Victor Garber, and Mary Steenburgen.
9. Let It Snow
Director: Luke Snellin
Cast: Isabela Merced, Shameik Moore, Kiernan Shipka, Odeya Rush, Liv Hewson, Mitchell Hope, Jacob Batalon, Joan Cusack
Introduction: Three interconnected stories from three bestselling authors: John Green (Paper Towns, The Fault in our Stars), Maureen Johnson (The Name of the Star), and Lauren Myracle (The Internet Girls series.). Let it Snow follows the stories of a group of high school seniors in a small midwestern town when a snowstorm hits on Christmas Eve. CA Christmas Eve snowstorm transforms one small town into a romantic haven, the kind you see only in movies. On Christmas morning nothing will be the same as friendships and love lives collide in a charming tale of festive exuberance and coming of age.
10. Holiday in the Wild
Director: Ernie Barbarash
Cast: Rob Lowe, Kristin Davis
Introduction: Kate Conrad, a stylish Manhattanite played by Sex and the City's Kristin Davis, is about to have her life turned upside down when her husband decides to leave her just as they were to celebrate their 'second honeymoon' on an African safari. Kate takes the trip by herself and ends up staying all the way through the Christmas holiday, however rather than enjoying the 5* luxury safari she and her husband had planned, she ends up caring for an orphaned elephant with the help of pilot and man-about-the-reserve, Derek Holliston (Rob Lowe).
---
Conclusion
Hope this list will warm you up throughout the December Christmas season. But the discomforting thing is that if you want to download the Netflix Christmas movie, you need to watch it within a specified time, otherwise the movie will not be able to be played offline if it expires. The shortest validity period is 48 hours, and the longest is 7 days. To solve this tricky problem, you can turn to NoteBurner Netflix Video Downloader. It is the best video download tool that can help you download Netflix content without restrictions and store these downloads forever. With NoteBurner Netflix Video Downloader, you can store unlimited Netflix Christmas movies and other shows without installing an application. When you use NoteBurner to download a video successfully, you can transfer the downloaded video to any device for offline viewing, even if the device is not supported by the Netflix application. If you want to download Netflix videos freely, then NoteBurner Netflix Video Downloader will not let you down!