Best 15 Horror Movies on Netflix
Are you still looking for the most terrifying film ever made on Netflix? There are numerous titles on Netflix to select, especially for the horror genre. It's a challenge to find out the suited movie among a mass of Dracula titles to watch alone at home. To avoid unnecessary hard, here will we provide a list of 15 best horror movies on Netflix, which is based on critical polling, for you. Plus, this article will also recommend a professional tool to help you save all terrify Netflix films to USB for transferring to any of your devices!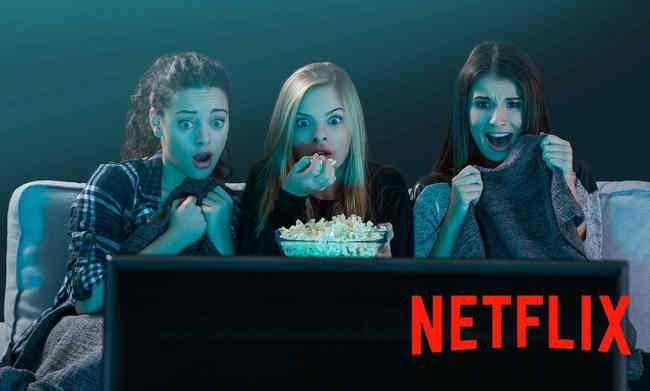 1. Top 15 Horror Movies on Netflix
1. Cam
Directed By: Daniel Goldhaber
In Theaters: Nov 16, 2018 Limited
Runtime: 94 Minutes
Introduction: Alice, an ambitious camgirl, one day she discovers she has been replaced on her show an exact replica of herself. As this copy begins to push the boundaries of Alice's internet identity, the control that Alice has over her life, and the men in it, will vanish. But while she struggles to regain what she has lost, she slowly has drawn back to her show and the copy.
2. Little Evil
Directed By: Eli Craig
In Theaters: Sep 1, 2017 Limited
Runtime: 94 Minutes
Introduction: Gary has just married with Samantha, the woman of his love. But he soon discovers that his 5-year-old stepson, Lucas, is always odd among the other children. And later he believes that his Lucas might actually be the Antichrist (the spawn of Satan).
3. 1922
Directed By: Zak Hilditch
In Theaters: Oct 20, 2017 Limited
Runtime: 101 Minutes
Introduction: 1922 is a storytelling of a man's confession of his wife's murder. He admits to killing his wife for financial gain, with the assistance of his teenage son. But after he buries the body, he finds that his wife terrorizes him by rats, etc. Since then, his life ruined, and he becomes convinced his wife is haunting him all the time.
4. Gerald's Game
Directed By: Mike Flanagan
In Theaters: Sep 29, 2017 Limited
Runtime: 103 Minutes
Introduction: A couple tries to add spice to their marriage and have a sex game in a remote lake house. But when her husband goes wrong and dies unexpectedly, the wife, with poor eyesight, has been left handcuffed on the bed frame and she had to fight for surviving alone in the dark.
5. Cargo
Directed By: Yolanda Ramke, Ben Howling
On Disc/Streaming: May 18, 2018
Runtime: 91 Minutes
Introduction: After a violent epidemic spreads all over Australia, an infected father desperately searches for someone who is willing to protect his infant daughter.
6. Ravenous (Les Affamés)
Directed By: Robin Aubert
In Theaters: Mar 2, 2018 imited
Runtime: 100 Minutes
Introduction: In a small, remote village town in Canada, locals are not the same anymore, they've turned -- fought against their lover and feast upon loved ones' bodies without self-consciousness. The few survivors run bidding in the forest, and seek for the other survival.
7. The Platform
Directed By: Galder Gaztelu-Urrutia
In Theaters: Mar 20, 2020 Wide
Runtime: 90 Minutes
Introduction: One day, Goreng wakes up with his future colleague Trimagasi in the 33rd level of a prison-style place, crossed by a hole where a platform descends with meal remains left from the tenants from higher levels. Rules that govern this mysterious place is: two people per level and an unknown number of them. If you go upwards you survive, but you will descend again.
8. Apostle
Directed By: Gareth Evans
In Theaters: Oct 12, 2018 Limited
Runtime: 129 Minutes
Introduction: In London's 1905, a drifter learns that his sister is being held for a large ransom by a religious cult. He then determined to get the sister back from an isolated island at any cost. But after goes to the idyllic island and infiltrates the island's community, he discovers that the corruption of mainland society that they claim to reject has infested the cult's ranks nonetheless - and uncovers a secret far eviler than he could have imagined.
9. The Ritual
Directed By: David Bruckner
On Disc/Streaming: Feb 9, 2018
Runtime: 94 Minutes
Introduction: Following the sudden, violent death of their best mate, four young college men reunite for a trip to the forest. Deep in the dark of the Scandinavian wilderness, they find themselves lost in a hell of sinister nightmares and pagan sacrifices. This forest is the home to a malevolent deity and men have to face the darkness inside themselves and fight for survival.
10. The Perfection
Directed By: The Perfection
On Disc/Streaming: May 24, 2019
Runtime: 90 Minutes
Introduction: When troubled musical prodigy Charlotte seeks out Elizabeth, the new star pupil of her former school, the encounter sends both musicians down a sinister path with shocking consequences.
11. Bird Box
Directed By: Susanne Bier
In Theaters: Dec 13, 2018 Limited
Runtime: 117 Minutes
Introduction: Five years after the mysterious unseen force decimates the world's population, Malorie must flee with her two children and fight for survival. The only thing is certain: if you see the force, you will take your life. Malorie blindfold herself and her children's eyes, drop down to a treacherous river to the one place left that may offer sanctuary.
12. Velvet Buzzsaw
Directed By: Dan Gilroy
In Theaters: Feb 1, 2019 Limited
Runtime: 109 Minutes
Introduction: Velvet Buzzsaw, a satirical thriller film, set in the contemporary art world scene of Los Angeles, where big money artists and mega-collectors pay a high price when art collides with commerce.
13. Fractured
Directed By: Brad Anderson
On Disc/Streaming: Oct 11, 2019
Runtime: 100 Minutes
Introduction: Driving home after a tense holiday weekend, a 6-year-old daughter's arm is fractured in the rest area. The family rushes to a nearby emergency room run by a staff. After being sent away for furthering testing, the daughter and wife vanish and all records of their visit disappear......
14. In the Tall Grass
Directed By: Vincenzo Natali
On Disc/Streaming: Oct 4, 2019
Runtime: 90 Minutes
Introduction: After hearing a young boy's cry for help, a sister and brother venture into a vast field of tall grass in Kansas, but soon a sinister forces separate them. Cut off from the world and unable to escape, they discover something evil lurks within.
15. Annihilation
Directed By: Alex Garland
In Theaters: Feb 23, 2018 Wide
Runtime: 120 Minutes
Introduction: A biologist signs up for a dangerous, secret expedition into a mysterious zone where the laws of nature don't apply. The expedition discovers a world of mutated landscapes and creatures, as dangerous as it is beautiful but fatal.
---
2. Save Netflix Horror Movies to USB for Transferring & Backup
As a popular video streaming platform, Netflix offers a good deal of videos for its members. However, all Netflix videos are applied with encryption technology and we can only enjoy them on the devices that can support the app. What if we would like to transfer the scary Netflix downloads to a projector via USB stick for watching? or to send the USB drive (stored with horror Netflix titles) to friends as a gift? In this case, a smart tool, Netflix Video Downloader, will be required.
What's Netflix Video Downloader
Netflix Video Downloader is especially designed for Netflix users to download any of their preferred movies & TV shows to a popular video format, MP4 format, in HD output quality. And it will also preserve several audio tracks and subtitles. With such a powerful program, your whole horror Netflix library can be downloaded as readable video files and can be saved on USB stick as needs.
Seeking a way to save songs from Amazon Music Unlimited as well as Prime Music forever? Amazon Music Converter is all you need, which carries the best audio recording core, able to download any Amazon songs to MP3/AAC/WAV/FLAC format.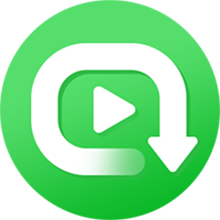 Features of Netflix Video Downloader:
Download Netflix TV serials, TV shows, movies, etc.
Support downloading Netflix video in HD quality.
Save audio tracks and subtitles automatically.
Outstanding performance & fast speed.
Flexible and easy-to-use.
Try It Free

Try It Free

1 - 12 Months
license & free upgrade
Note: NoteBurner strictly observes the legal regulations and never circumvents DRM copy protection.
Tutorial: Download Netflix Horror Video to MP4
Currently, Netflix Video Download is available in the Windows & Mac version. To download Netflix content in MP4 format, please download the program first and here's how to do it.
Step 1 Download and Run Netflix Video Downloader
Open Netflix Video Downloader on your computer, then sign in with your Netflix account by clicking "Sign In".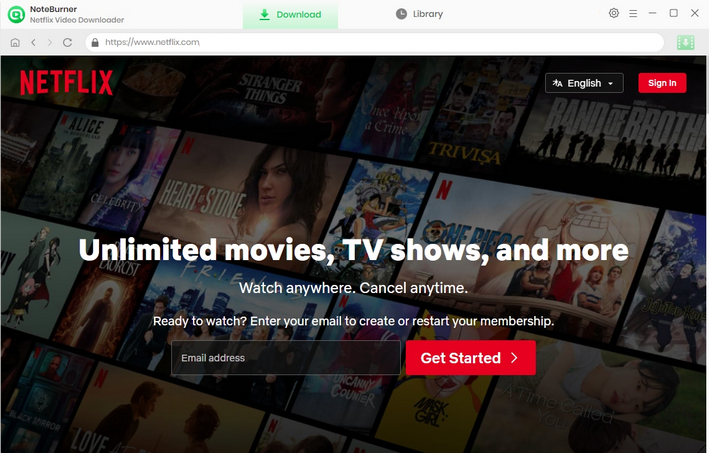 Step 2 Select Output Quality
Different from those original recording tools, Netflix Video Downloader supports downloading HD Netflix scary video. And it also provides the option to select the video quality ranging from Low (240P) to High (720P/1080P) in the setting window. If there's enough space in your phone, it's suggested to select "High" to get the best output quality. Simply click on the "Setting" button to customize the output settings as your need.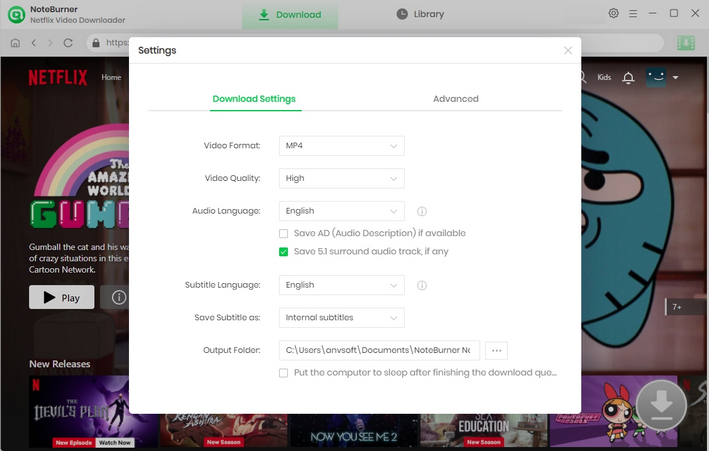 Step 3 Search Preference Netflix Horror Videos
Please enter the name of your terrifying videos, and then the app will search for the videos automatically.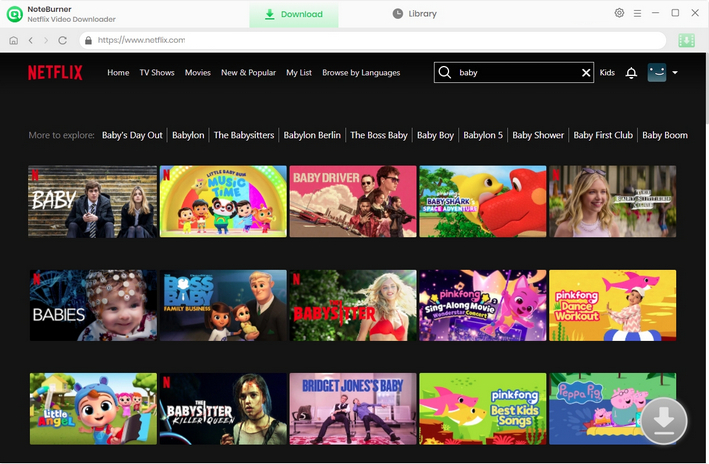 Step 4 Select Output Audio Track and Language
For any specific videos you want to download using the Netflix Video Downloader, you can choose your desired audio track and subtitle. Simply click the

icon to begin downloading a TV show. The window where you can select which episodes to keep will then appear. Choosing the audio track and subtitles is also possible by selecting "Advanced Download". In order to open the appropriate window when downloading a movie, simply select the

symbol.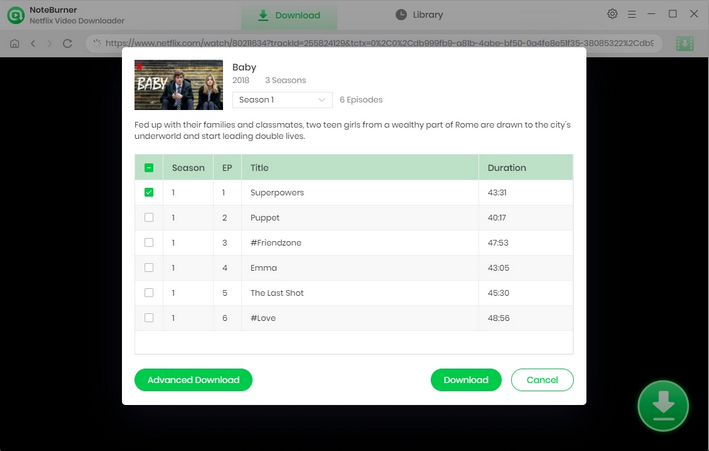 Step 5 Start Downloading Netflix Horror Video to MP4
After finishing the above steps, please simply click the Download icon. Then the program will start downloading Netflix scary videos to the output folder you've chosen in the previous step.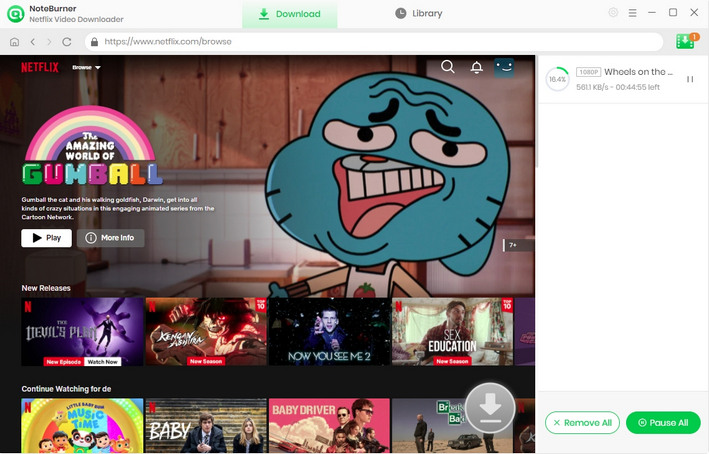 Once the conversion is done, you can find the downloaded horror Netflix video in MP4 format by clicking the "Library" button or just directly opening the output folder. And now you are able to save all Netflix horror videos to your USB drive for transferring without any limit.
Whether you are going to download horror movies or comedic movies from Netflix to MP4, Netflix Video Downloader will never let you down. With it, it's no need to worry about the limitations on Netflix app anymore.
Note: Only the first 5 minutes of each video can be downloaded with trial version, please purchase a license to enjoy the full video. Of course, it is suggested to download the trial version first to test whether it meets your needs for downloading.