How to Cancel Netflix Subscription
Netflix is the world's largest streaming video-on-demand service, it has millions of subscribers, including 73 million in the United States according to official data released in 2020. Netflix provides users with three types of plans, which are the basic, standard, and premium. Similar to other video streaming services, it offers a 30-day free trial (except in the United States) period, which you can enjoy any of the plans for 30 days at free cost. But you will have to cancel the subscription before the trial period ends, and this article will show you how to cancel the Netflix subscription on different platforms.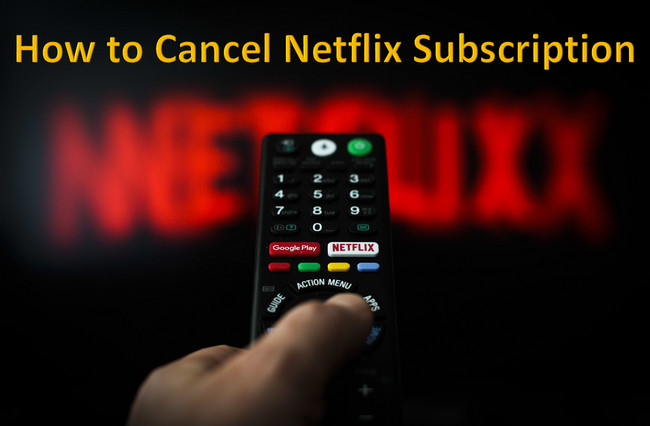 How to cancel Netflix subscription
The procedure for canceling Netflix depends on your payment method. For credit cards, Netflix prepaid gift cards, debit cards, prepaid cards, and PayPal payment methods, you can complete the procedure from the Netflix official website. If you were paying through iTunes, you can open iTunes on your iOS mobile device or computer and complete the cancellation process. For Google Play, you can go to the Google account page on your computer or Android device cancel the subscription. See the detailed instructions below.
Cancel through Netflix official page
If you were paying with a credit card, Netflix prepaid gift card, debit card, prepaid card, or PayPal, please log in to the official Netflix page on a web browser to complete the cancellation process.
Step 1 Login to your Netflix account on Netflix official website.
Step 2 Click your profile on the top-right corner and select "Account"
Step 3 Tap on "Cancel Membership" on the left to finish the process.

Cancel through iTunes/iOS
If you subscribed to Netflix via iPhone, iPad, or iPod touch, please refer to the cancellation procedure below.
Step 1 Go to Settings on your iOS device and tap iTunes& App Stores.
Step 2 Click on your Apple ID, look for "Subscriptions" as below, and then you will be directed to all of your subscriptions that you purchased through iTunes. Find the Netflix subscription and simply follow the instructions to cancel it.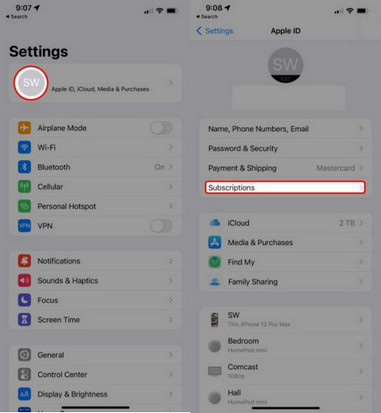 Cancel through Google Play
If you subscribed to Netflix via Google Play, you can cancel it through your Google Play account on your Android device.
Step 1 Go to Play Store on your Android device.
Step 2 Open menu and look for Subscription, find your Netflix subscription and simply select cancel.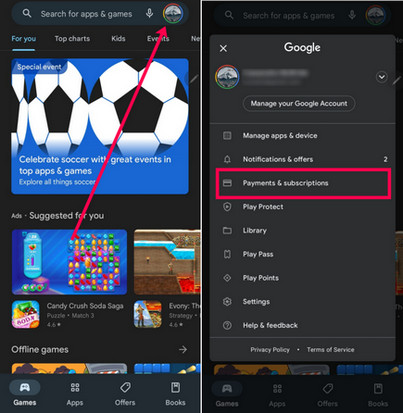 What happens after canceling Netflix?
Once you cancel the Netflix membership, you can still watch the video until the last day of the contract. The same applies during the free trial period. You will not be charged unless you re-register. Netflix saves your viewing history for 10 months after you cancel, so if you restart during that time, you can use the information at the time of cancellation again. However, once you have completed the Netflix cancellation process, you will not be able to use the full features, and you will not be able to watch your Netflix downloads.
Once your membership is expired, you will not be able to view the videos downloaded on Netflix. Even you can download the video during your subscription period, you do not own them. So this time around, we have a powerful tool recommend to you, Netflix Video Downloader, it is designed for downloading and permanently saving Netflix videos to your local drive.
Note: NoteBurner strictly observes the legal regulations and never circumvents DRM copy protection.
Below are the steps to download and save as many movies and TV shows as you like from Netflix using Netflix Video Downloader.
Step 1 Run Netflix Video Downloader on Windows PC and enter any word in the search box to open the Netflix login window for logging into your Netflix account.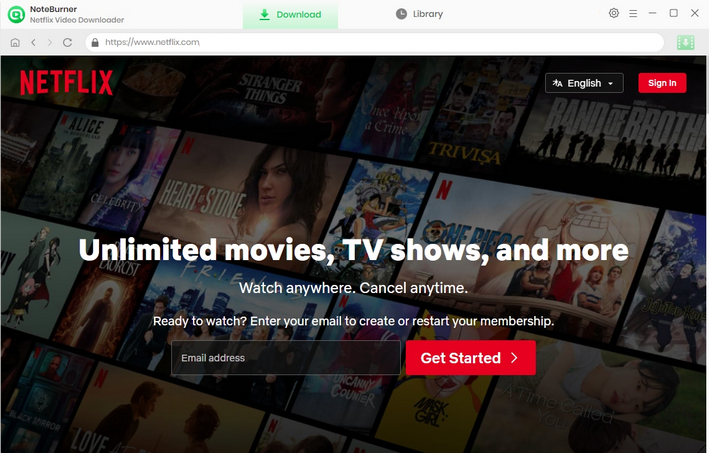 Step 2 Click the Setting button on the upper right corner to set the output quality. The program offers three quality levels for downloads: Low, Medium, and High.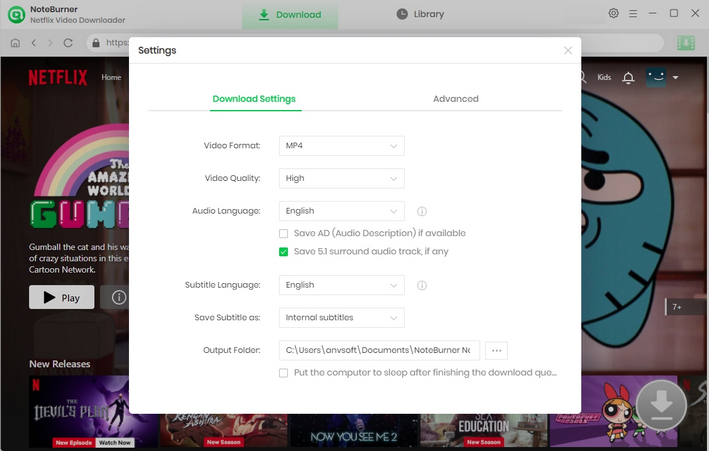 Step 3 Netflix Video Downloader enables you to import videos by entering the name of movies & TV shows or copying and pasting the link of videos from Netflix Web Player to it. After inputting the video's name or link, simply press "Enter" button on your keyboard, and the program will list the video or all of the related videos soon.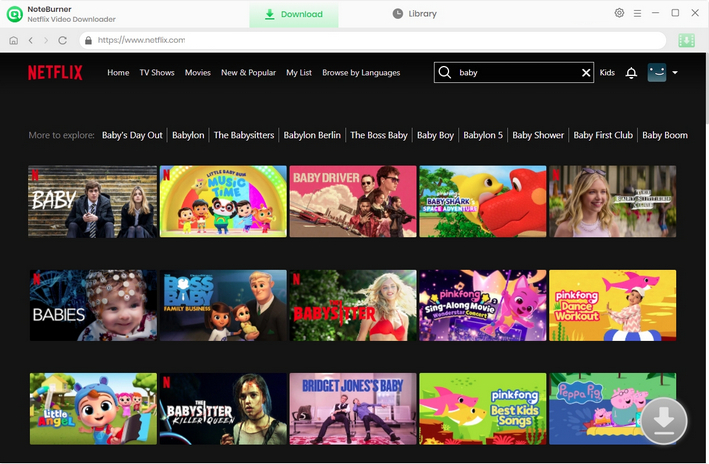 Step 4 Select Output Audio Track and Language
Netflix Video Downloader empowers you to select your preferred audio track and subtitle before downloading. If you are trying to download a TV show, simply click the

icon, following that a window will pop up allowing you to select titles as well as seasons, and to choose audio track and subtitles by clicking "Advanced Download" in the bottom left corner. If you try to download a movie, please click the

icon to open the according window.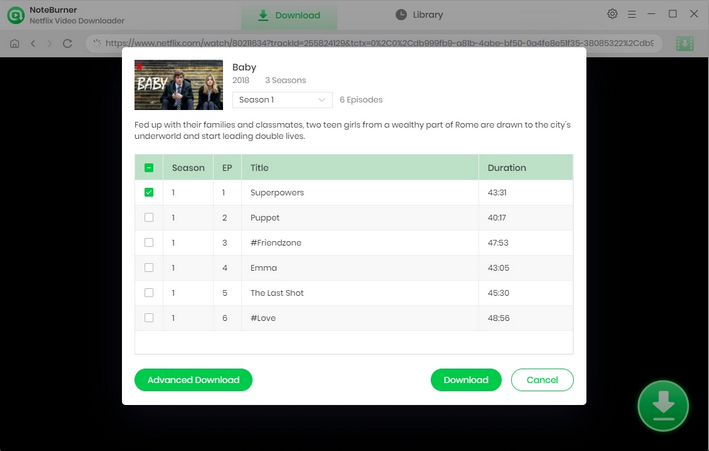 Step 5Simply click the Download icon, the program will start downloading the Netflix videos to the output folder. After downloading, you can click on Library to find the well-downloaded Netflix videos on local drive.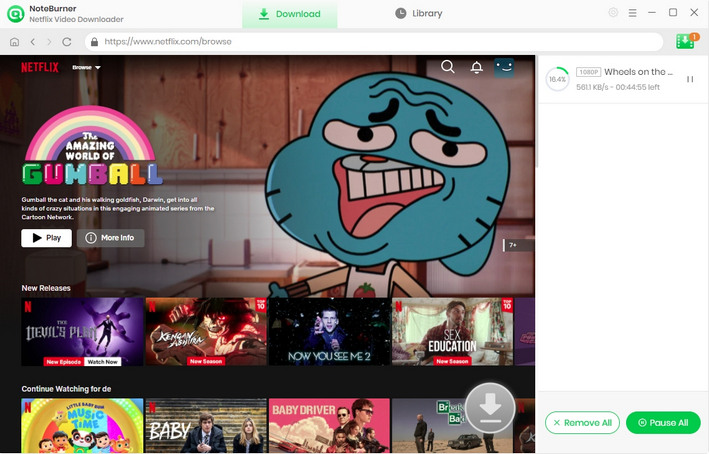 ---
What's next? Download Netflix Video Downloader now!