Introduction of top 15 Oscar movies on Amazon
1. Everything Everywhere All at Once
Director: Daniel Kwan, Daniel Scheinert
Cast: Michelle Yeoh, Stephanie Hsu, Jamie Lee Curtis
Synopsis: With her laundromat teetering on the brink of failure and her marriage to wimpy husband Waymond on the rocks, overworked Evelyn Wang struggles to cope with everything, including tattered relationships with her judgmental father Gong Gong and her daughter Joy. She must also brace herself for an unpleasant meeting with an impersonal bureaucrat: Deirdre, the shabbily-dressed IRS auditor. However, as the stern agent loses patience, an inexplicable multiverse rift becomes an eye-opening exploration of parallel realities.
2. Dune
Director: Denis Villeneuve
Cast: Timothée Chalamet, Rebecca Ferguson, Zendaya
Synopsis: A mythic and emotionally charged hero's journey, "Dune" tells the story of Paul Atreides, a brilliant and gifted young man born into a great destiny beyond his understanding, who must travel to the most dangerous planet in the universe to ensure the future of his family and his people. As malevolent forces explode into conflict over the planet's exclusive supply of the most precious resource in existence-a commodity capable of unlocking humanity's greatest potential-only those who can conquer their fear will survive.
3. Nomadland
Director: Chloé Zhao
Cast: Frances McDormand, David Strathairn, Linda May
Synopsis: Following the economic collapse of a company town in rural Nevada, Fern packs her van and sets off on the road exploring a life outside of conventional society as a modern-day nomad. The third feature film from director Chloé Zhao, NOMADLAND features real nomads Linda May, Swankie and Bob Wells as Fern's mentors and comrades in her exploration through the vast landscape of the American West.
4. Parasite
Director: Bong Joon Ho
Cast: Song Kang-ho, Lee Sun-kyun, Cho Yeo-jeong
Synopsis: The Kims - mother and father Chung-sook and Ki-taek, and their young adult offspring, son Ki-woo and daughter Ki-jung - are a poor family living in a shabby and cramped half basement apartment in a busy lower working class commercial district of Seoul. The Parks are a wealthy family who for four years have lived in their modernistic house designed by and the former residence of famed architect Namgoong. The question then becomes how far the Kims can take this scam in their quest to become their version of the Parks.
5. Bohemian Rhapsody
Director: Bryan Singer
Cast: Rami Malek, Lucy Boynton, Gwilym Lee
Synopsis: Bohemian Rhapsody is a foot-stomping celebration of Queen, their music and their extraordinary lead singer Freddie Mercury. Freddie defied stereotypes and shattered convention to become one of the most beloved entertainers on the planet. They reach unparalleled success, but in an unexpected turn Freddie, surrounded by darker influences, shuns Queen in pursuit of his solo career. Having suffered greatly without the collaboration of Queen, Freddie manages to reunite with his bandmates just in time for Live Aid. While bravely facing a recent AIDS diagnosis, Freddie leads the band in one of the greatest performances in the history of rock music.
6. Green Book
Director: Peter Farrelly
Cast: Viggo Mortensen, Mahershala Ali, Linda Cardellini
Synopsis: In 1962, tough bouncer Frank "Tony Lip" Vallelonga searches for work while his nightclub is closed for renovations. The most promising offer turns out to be the driver for African-American classical pianist Don Shirley for a concert tour into the Deep South states. Although hardly enthused at working for a Black man, Tony accepts the job and they begin their trek armed with "The Negro Motorist Green Book," a guide for safe travel through America's racial segregation.
7. The Shape of Water
Director: Guillermo del Toro
Cast: Sally Hawkins, Octavia Spencer, Michael Shannon
Synopsis: From master storyteller Guillermo del Toro comes THE SHAPE OF WATER, an otherworldly fable set against the backdrop of Cold War era America circa 1962. In the hidden high-security government laboratory where she works, lonely Elisa is trapped in a life of isolation. Elisa's life is changed forever when she and co-worker Zelda discover a secret classified experiment.
8. La La Land
Director: Damien Chazelle
Cast: Ryan Gosling, Emma Stone, Rosemarie DeWitt
Synopsis: Aspiring actress serves lattes to movie stars in between auditions and jazz musician Sebastian scrapes by playing cocktail-party gigs in dingy bars. But as success mounts, they are faced with decisions that fray the fragile fabric of their love affair, and the dreams they worked so hard to maintain in each other threaten to rip them apart.
9. Moonlight
Director: Barry Jenkins
Cast: Mahershala Ali, Naomie Harris, Trevante Rhodes
Synopsis: Three time periods - young adolescence, mid-teen and young adult - in the life of black-American Chiron is presented. When a child, Chiron lives with his single, crack addict mother Paula in a crime ridden neighborhood in Miami. Chiron is bullied, the slurs hurled at him which he doesn't understand beyond knowing that they are meant to be hurtful. With this childhood as a foundation, Chiron may have a predetermined path in life, one that will only be magnified in terms of its problems when he reaches his difficult teen years when peer pressure affects what he and many of his peers do, unless he follows Juan's advice of truly making his own decisions for himself.
10. Mad Max: Fury Road
Director: George Miller
Cast: Tom Hardy, Charlize Theron, Nicholas Hoult
Synopsis: An apocalyptic story set in the furthest reaches of our planet, in a stark desert landscape where humanity is broken, and almost everyone is crazed fighting for the necessities of life. Within this world exist two rebels on the run who just might be able to restore order. There's Max, a man of action and a man of few words, who seeks peace of mind following the loss of his wife and child in the aftermath of the chaos. And Furiosa, a woman of action and a woman who believes her path to survival may be achieved if she can make it across the desert back to her childhood homeland.
11. Spotlight
Director: Tom McCarthy
Cast: Mark Ruffalo, Michael Keaton, Rachel McAdams
Synopsis: When the Boston Globe's tenacious "Spotlight" team of reporters delves into allegations of abuse in the Catholic Church, their year-long investigation uncovers a decades-long cover-up at the highest levels of Boston's religious, legal, and government establishment, touching off a wave of revelations around the world.
12. Birdman
Director: Alejandro G. Iñárritu
Cast: Michael Keaton, Zach Galifianakis, Edward Norton
Synopsis: Former cinema superhero Riggan Thomson is mounting an ambitious Broadway production that he hopes will breathe new life into his stagnant career. It's risky, but he hopes that his creative gamble will prove that he's a real artist and not just a washed-up movie star. As opening night approaches, a cast mate is injured, forcing Riggan to hire an actor who is guaranteed to shake things up. Meanwhile, Riggan must deal with his girlfriend, daughter and ex-wife.
13. The Grand Budapest Hotel
Director: Wes Anderson
Cast: Ralph Fiennes, F. Murray Abraham, Mathieu Amalric
Synopsis: This movie recounts the adventures of M. Gustave, a legendary concierge at a famous European hotel between the wars, and Zero Moustafa, the lobby boy who becomes his most trusted friend. The story involves the theft and recovery of a priceless Renaissance painting and the battle for an enormous family fortune - all against the backdrop of a suddenly and dramatically changing continent.
14. 12 Years a Slave
Director: Steve McQueen
Cast: Chiwetel Ejiofor, Michael Kenneth Williams, Michael Fassbender
Synopsis: Based on an incredible true story of one man's fight for survival and freedom. In the pre-Civil War United States, Solomon Northup, a free black man from upstate New York, is abducted and sold into slavery. Facing cruelty personified by a malevolent slave owner, as well as unexpected kindnesses, Solomon struggles not only to stay alive, but to retain his dignity. In the twelfth year of his unforgettable odyssey, Solomon's chance meeting with a Canadian abolitionist will forever alter his life.
15. Life of Pi
Director: Ang Lee
Cast: Suraj Sharma, Irrfan Khan, Adil Hussain
Synopsis: In Canada, a writer visits the Indian storyteller Pi Patel and asks him to tell his life story. Pi tells the story of his childhood in Pondicherry, India, and the origin of his nickname. One day, his father, a zoo owner, explains that the municipality is no longer supporting the zoo and he has hence decided to move to Canada, where the animals the family owns would also be sold. They board on a Japanese cargo ship with the animals and out of the blue, there is a storm, followed by a shipwrecking. Pi survives in a lifeboat with a zebra, an orangutan, a hyena and a male Bengal tiger nicknamed Richard Parker. They are adrift in the Pacific Ocean, with aggressive hyena and Richard Parker getting hungry. Pi needs to find a way to survive.
---
Download Oscar movies for offline playback
If you are also looking for a way to download those movies as local files so that you can play them on any device at any time, here we can recommend a professional Amazon Video Downloader, which is dedicated to downloading ad-free Amazon videos in MP4/MKV format.
NoteBurner Amazon Video Downloader is a powerful tool designed to download videos from Amazon Prime Video. It supports video quality from 240P to 1080P and ensures that all subtitles and audio tracks are well preserved. The software offers quick batch download mode, making it an efficient option for users.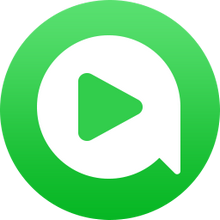 Features of Amazon Video Downloader:
Download Amazon TV serials, TV shows, movies, etc.
Support downloading Amazon video in HD quality.
Save audio tracks and subtitles automatically.
Outstanding performance & fast speed.
Flexible and easy-to-use.
Try It Free

Try It Free

1 - 12 Months
license & free upgrade
Tutorial: How to Download Amazon Video with NoteBurner
Please install the latest version of NoteBurner Amazon Video Downloader to your computer before reading the following tutorial.
Step 1 Log-in Amazon Account
Launch and register NoteBurner on your computer first. If this is your first time using it, you need to first make a selection of the region.
For the United States, select "amazon.com"
For Germany, select "amazon.de"
For Japan, select "amazon.co.jp"
For United Kingdom, select "amazon.co.uk"
For France, India, Canada, and others, select "primevideo.com"
Now, after hitting Sign In, you'll see a login page that prompts you to log in to your Amazon account.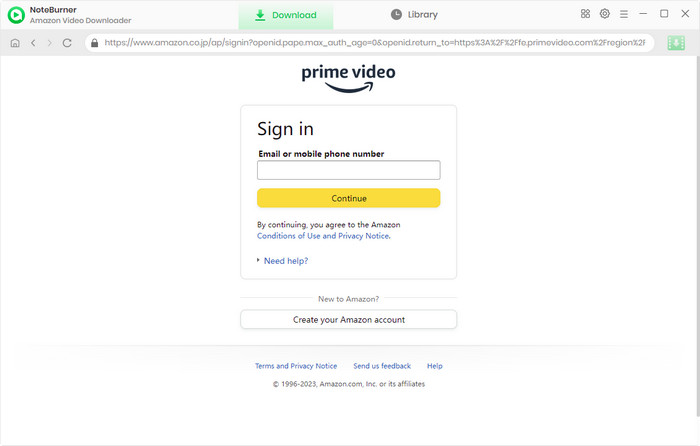 Step 2 Set Output Settings
Next, click the Gear button and choose the Video Format, Video Quality (from Low to High), Subtitle Format, etc.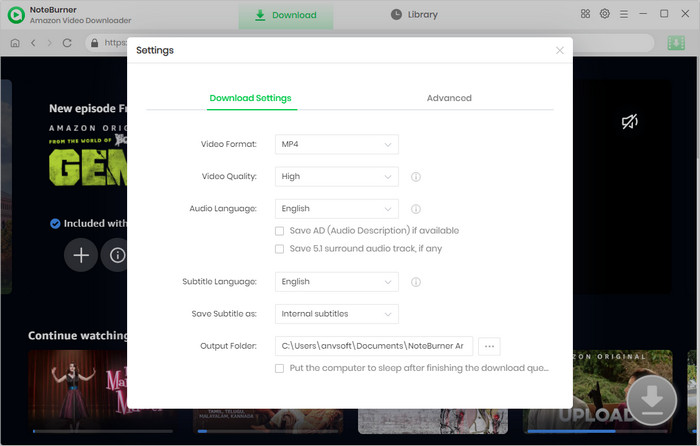 Step 3 Search Videos You Want to Download
By utilizing the built-in Amazon Prime browser of NoteBurner Amazon Video Downloader, users can easily interact with the software in a similar manner to their experience on Amazon Prime. By selecting the magnifying glass symbol at the top right corner, a search bar will be activated. If you enter the video's name, you'll find a list of all relevant search results.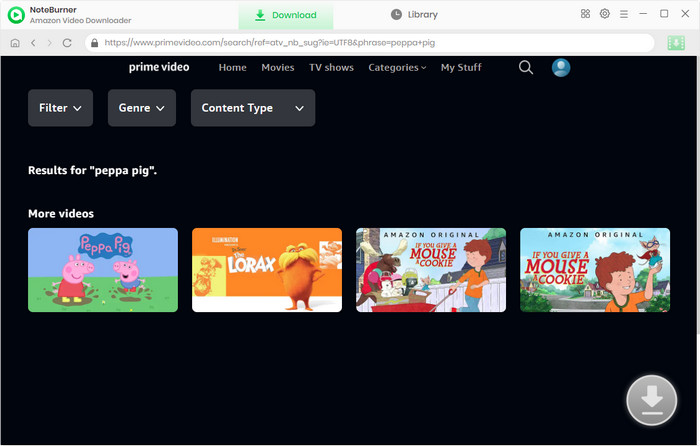 Step 4 Customize Advanced Settings
Choose the video thumbnail, and it will take you to the video's details page. Simultaneously, the download button in the bottom right will shift from gray to green. Before you get to download the video, you can select the Advanced Download options first.
When looking to download a TV show, your first step is to select the Download icon, which will result in a pop-up window opening where you can choose the seasons and titles, and then click the Advanced Download icon to select the video quality, subtitle language, and audio track.
If the video you want to download is a movie, you can access the Advanced Download window simply by clicking the Download icon.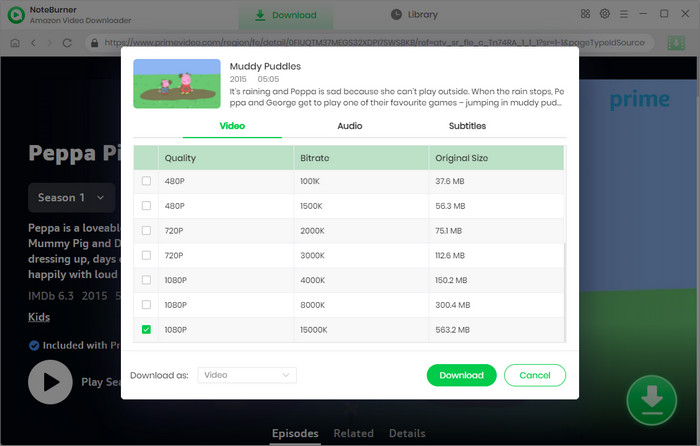 Step 5 Download Amazon Video
The final step is to click the Download icon. You can check the downloaded video in the Library when the download is finished.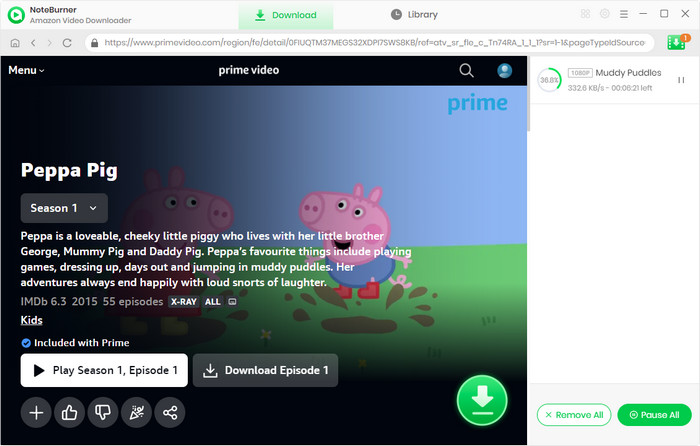 Final word
It's time to emerge yourself into the brilliance of Oscar movies without limits. Install NoteBurner Amazon Video Downloader with a few clicks and enjoy your favorite Amazon content anywhere at any time now!
Note: Only the first 5 minutes of each video can be downloaded with a trial version, please purchase a license to enjoy the full video. It is suggested that to download the trial version and have a test before purchasing it.