Top 4 Amazon Video Downloaders
As one of the most popular streaming platforms, Amazon has earned a reputation for its vast content library, attracting over 200 million subscribers who consider it a daily essential.
Have you found yourself frustrated with Amazon's download restrictions? Tired of dealing with interrupted playback due to unstable connections while on the go? Are you searching for a solution to enjoy Amazon video content without time limits on any device you prefer? If so, have you considered using a reliable tool to download movies and TV shows from Amazon Prime Video?
Fortunately, a video tool exists that is specifically designed to aid users in downloading Amazon's vast selection of movies and TV shows. This tool is known as Amazon Video Downloader. If you're interested in learning more about this tool, we've got you covered with a detailed review of the top 4 Amazon Video Downloaders.
No.1: NoteBurner Amazon Video Downloader
NoteBurner Amazon Video Downloader is a professional downloader designed for Amazon users to download videos in MP4 or MKV format from Prime Video. Different from other video downloaders, videos downloaded by Amazon Video Downloader can keep their original quality (you may also choose the video quality according to your storage), subtitles, and audio tracks (5.1 Dolby sound). Batch download mode is available to get bunches of videos at one time. The program provides three types of subtitles for different uses. And it offers the H.265 video codec, which saves more space and helps to download videos faster. Also, updates and technical support are provided for free.
Key Features:
Export Amazon Videos in MP4 or MKV Format with HD Quality.
Keep Multilingual Audio Tracks and Subtitles, including 5.1 audio.
Extract Subtitles as Separate Files.
Different Video Codec Options for Downloading.
Easy Find Downloaded Videos through Metadata.
Batch Download Mode & Timely Support.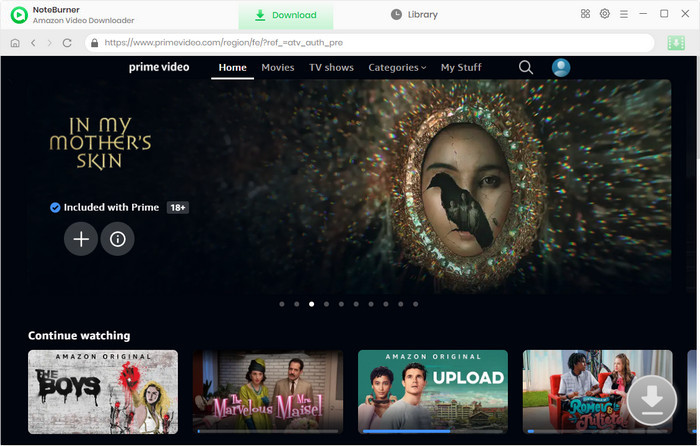 How to Use:
1. Launch NoteBurner on your computer and register using the license information, which will be sent to your email box automatically after your purchase.

2. Click Sign In in the main interface to activate a pop-up page, which will prompt you to log in to your Amazon Prime Video account.

3. Choose the output settings according to your preference in the Settings window.

4. Search for the video you want to download by name searching.

5. Choose advanced download settings and then download the video.

To know more about NoteBurner Amazon Video Recorder, please click here.
Verdict:
NoteBurner is easy to use and it provides lots of download setting options before the download. You can choose the output format, quality, subtitle format (internal, external, and hardcode), subtitle language, audio track, video codec (H.264 or H.265), size, etc. The videos are downloaded fast and you can sort out the downloaded videos by their metadata. The support team is really helpful and they always try to reply to you as soon as possible. Also, they offer free updates for you to fix technical problems. In case you don't know how to use the program or cannot get a timely response, NoteBurner also prepared thorough tutorials and FAQ pages for you.
Price:
NoteBurner Amazon Video Downloader provides three subscription plans: monthly, annual, and lifetime. It costs $39.95 for a monthly plan, $49.95 for an annual plan, and $99.9 for a lifetime plan.
---
No.2: FreeGrabApp Free Amazon Prime Download
FreeGrabApp Free Amazon Prime Download is an Amazon video downloader and it can only be used on Windows computers. FreeGrabApp is actually not completely free as you need to pay for it for higher quality and better service. The paid version supports downloading HD quality Amazon content and can download several videos automatically at one time. You can grab Full HD 1080P and 5.1 Dolby Digital Audio videos using Multi downloading threads, 4 movies or episodes at the same time with unlimited queue which allows you to download your entire series in a short time. You can also download videos with different types of subtitles, which can be saved in TTML or SRT file format. Also, if you meet any problems when using the program, here's tech support for you.
Key features:
Download Amazon Content in HD Quality.
Several Downloads at A Time.
Control over Downloading Your Files - Stop, Resume, and Pause.
Downloading Videos with All Subtitles and 5.1 Dolby Sound.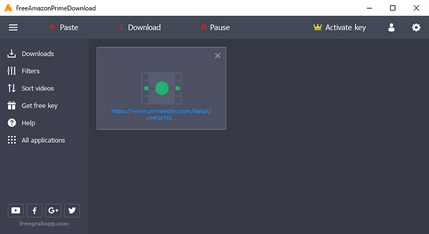 How to Use:
1. Open the link to the file you want to download from Amazon Prime. Copy the link.

2. Open Amazon Prime Downloader.

3. Paste the link into the "Paste" section of the app.

4. Select the output settings according to your preference.

5. Click "Download" to begin the process.

To know more about FreeGrabApp Free Amazon Prime Download, please click here.
Verdict:
The operation of this program is really simple and user-friendly, yet you might be stuck on the searching step, waiting for the search result for a few minutes. Worse, you may even have to wait for a longer time for the download. Also, it seems like that the setting choices are as simple as the operation. For example, despite the choices in video coding sizes, at the moment the video coding format is a BlackBox, you cannot tune it (e.g. H264 vs H265, number of B-frames/reference frames, etc.). And the tech support is believed to be unhelpful, lots of people claimed that they didn't get any satisfactory response or they just didn't receive any response.
Price:
Although the program names itself to be Free Amazon Prime Downloader, it actually still requires you to purchase a license to activate the full version and get better output quality. The license costs $16.99. One license covers 1-years subscription for 1-PC.
---
No.3: PlayOn Cloud Amazon Video Recorder
PlayOn Cloud is the first ever cloud DVR for streaming videos. The program is dedicated to recording videos from streaming platforms and Amazon Prime Video is one of them. You can record countless HD quality videos and keep the subtitles and audio tracks and the recordings will never expire. The recording is not limited on your computer, and you can also record the videos on your phone. Unlike other traditional recording tools, PlayOn enables you to skip any ads on commercial-supported shows. Recordings will be temporarily stored in a complimentary cloud "locker" and available for download from anywhere on any device.
Key Features:
No Viewing Restrictions on Any Devices.
Unlimited Number of Full HD 1080P Recordings.
No PC/Mac Required.
Closed Captioning Support.
Skip Any Ads on Commercial-Supported Shows.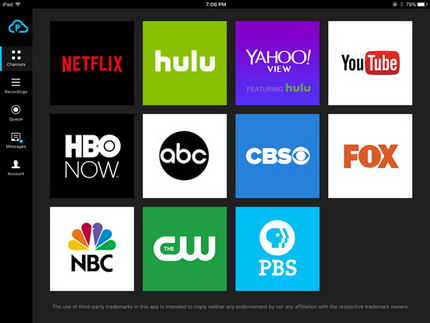 How to Use:
1. Download and install PlayOn Cloud.

2. Create your account and log in to the account on web.

3. Select Amazon Prime Video from the Channels tab and log in to your Amazon account.

4. Select the Amazon show or movie you want to download.

5. Click the Record button and the video will be recorded in real-time.

6. Download your recording to your device after the recording is done.

To know more about Playon Cloud Amazon Video Recorder, please click here.
Verdict:
PlayOn Cloud Amazon Video Recorder is actually a recorder, which means that you have to spend hours on it if you are trying to record videos with a long duration. Since it is recording videos, it is hard for you to extract subtitles as files. Also, if you want the videos to be equipped with different languages, you have to record the video again. For some reason, PlayOn may change your audio settings. For example, they will change your speaker output to their "virtual speakers" and you may have no sound on your computer or phone. Another thing you need to be cautious about PlayOn is that it may change its charge policy as many of its subscribers claimed that they need to pay for it again after purchasing a lifetime license.
Price:
PlayOn Cloud provides two types of subscription plans. One is to pay $2.99 per month for 30 recording credits, and the recordings are stored for 7 days in the Cloud. The second is to pay different amounts of money to get different Cloud storage and recording qualities and hours. The second plan keeps your recordings in the Cloud as long as you like.
---
No.4: Any Video Converter Ultimate
Any Video Converter Ultimate is an all-in-one Video Recorder, Home DVD Converter & Creator, Video Converter, and Audio Converter. Any Video Converter Ultimate can easily capture anything on your computer, etc. It supports all the major file formats and converts them at 30X faster speed than traditional converters. It also supports converting personal home DVD and converting video to popular video formats. It provides high-efficiency H.265 video codec, which helps to maintain the high visual quality but at a smaller file size. Moreover, it empowers you to edit and personalize your video files in clicks.
Key Features:
Record video with high output efficiency and quality.
Convert Video to 200+ formats for various devices.
Edit video clips with the cut, crop, flip, and special effects.
Burn any video to blank DVD disc to create DVDs.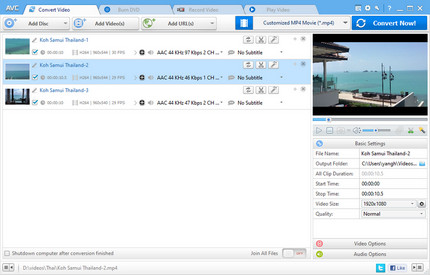 How to Use:
1. Run the program, then click on the "Record Video" tab on the top of the program to the video recording panel and click on the "Record Now" button to start recording.

2. If the video is not currently playing, please play the video you want to record.

3. Adjust the video record region by dragging manually if necessary and set stop time if needed.

4. Click the "REC" Button or press hotkey Ctrl + F7 to start recording.

To know more about Any Video Converter Ultimate, please click here.
Verdict:
Any Video Converter Ultimate is better at converting videos to different formats rather than downloading videos from streaming platforms. When it comes to downloading videos, it has the same disadvantages as that of PlayOn: time-consuming. Also, you need to record multiple times to get different subtitles and audio tracks.
Price:
Any Video Converter Ultimate only provides a lifetime license for users, which costs $49.95. However, you can get a discount by purchasing its bundle products. It recommends the AVC Ultimate + DVD Cloner Bundle product, which only costs $69.95.
---
Comparison of Top 4 Amazon Video Downloaders
| | | | | |
| --- | --- | --- | --- | --- |
| Amazon Video Downloader | NoteBurner Amazon Video Downloader | FreeGrabApp Free Amazon Prime Download | PlayOn Cloud Amazon Video Recorder | Any Video Converter Ultimate |
| Platform Supported | Windows & Mac PC | Windows PC | Windows & Mac PC & Phone | Windows & Mac PC |
| File Format | MP4 & MKV | MP3 & MP4 | MP4 | Over 200 video formats |
| Feature | Download videos from Amazon Prime Video in HD quality to MP4 OR MKV format with original subtitles and audio tracks preserved. | Download Amazon videos to MP3 or MP4 format in quality and keep the specific subtitles and audio tracks. | Record Amazon videos to MP4 format into the Cloud and download them to your devices for offline watching. | Record Amazon videos and convert them to any format you want, edit and personalize the video as you prefer. |
| Price | $39.95/$49.95/$99.9 | $16.99 | $2.99/$4.99/$9.99/$16.99/$29.99/$49.99 | $49.95 |
Conclusion
Having seen the review of the top four Amazon video downloaders, you can see that NoteBurner offers you the most choices in the functions and prices, allowing you to download HD quality videos to MP4 or MKV format faster and easier. With NoteBurner, you can download as many Amazon videos with their multilingual subtitles and audio tracks as you want on your Windows or Mac computer at lightning speed at one time. No more waiting. No more repeated downloads. No more limited setting choices.
It would be great to download the videos from Amazon and play them on whatever devices you want at any time. And it would be nicer to watch the videos without ads or video buffering. Choose one Amazon video downloader that you are most interested in and have a try now!