Amazon is a versatile platform that offers more than just a video streaming service. In addition to providing a vast library of movies for subscribers to watch and download, Amazon also offers the option to rent or purchase individual movies. It's important to note that even if you're not an Amazon Prime member, you can still rent videos from Amazon. Any Amazon user can browse Prime Video for movie rentals.
If you're interested in renting a movie on Amazon but unsure of how to proceed, this article is here to help. We will provide you with detailed information on how to rent a movie on Amazon and guide you through each step of the process.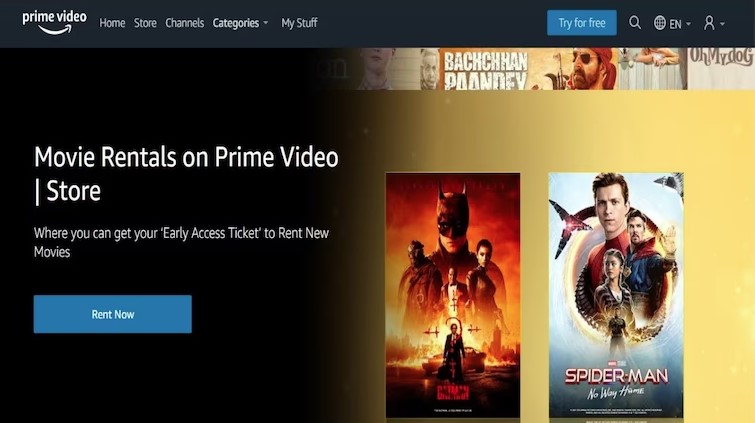 What is Amazon's Rental Video?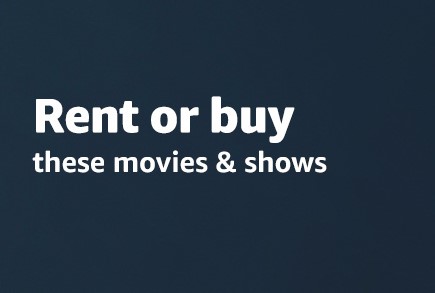 Amazon allows users to rent and download selected movies for a specific fee per month. This can be done through the Amazon website or the Prime Video app on supported devices. When a user rents a movie, they have 30 days to watch it, and once they start playing the movie, it will expire within 2 days (7 days for certain movies). Alternatively, users have the option to purchase the movie, allowing them to access and watch it indefinitely.
Through this service, Amazon provides users with early access to new movies shortly after their theatrical release, even before they become available on subscription services like the Prime membership plan. This gives users a wider selection of movies to enjoy and greater flexibility in their viewing options.
How Much to Rent A Movie?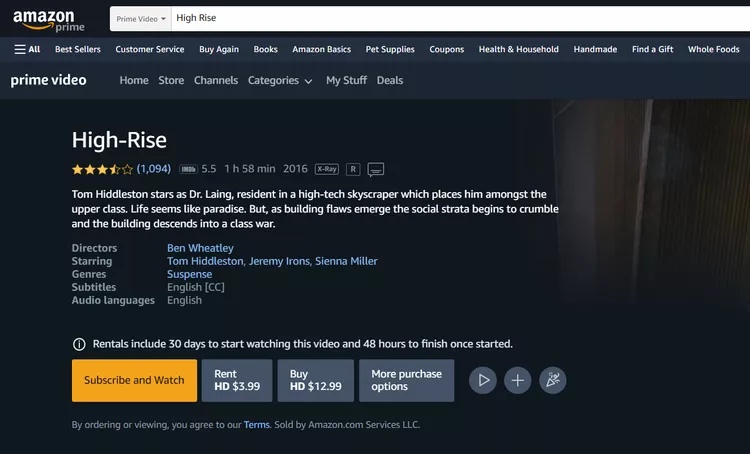 The price of a movie is usually from $0.99 to $5.99, and the specific price varies according to the pricing of different movies. Generally speaking, the later the release, the higher the price; and if a movie becomes less popular, the price will drop accordingly. The more common rental price is $3.99.
How to Rent Movies on Amazon Prime?
Here's a guide how you can do to rent a movie, whether you're on the website or app (take the Amazon website as an example).
Step 1: Open the Amazon Prime Video website in your browser and log in to your Amazon account.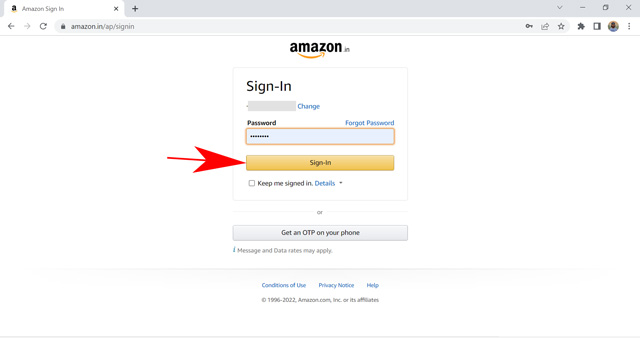 Step 2: Find the movie you want to watch.
Step 3: Select the pricing option that matches the quality you want to rent. You can view all of your rental options by clicking on "More Purchase Options".
Note: If you have set any purchasing restrictions, you will be prompted to enter your PIN to complete the purchase.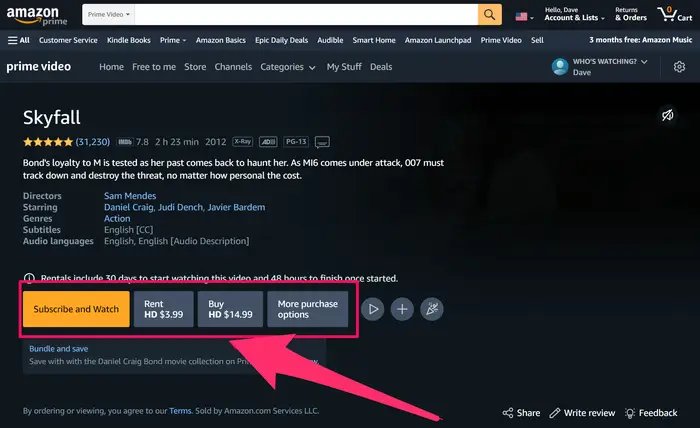 Step 4: Click Continue to make a payment. Pay attention that you will be charged after selecting the video quality for your rental and entering your payment information. You can find everything you have rented or purchased in the My Stuff tab. If you accidentally purchased the movie, click How to Cancel an Accidental Purchase.
Note: Once you have rented a movie, you will have a 30-day window to begin watching it. Once you press the play button, you can enjoy unlimited viewings of the movie for a period of 2 days (or 7 days for certain movies), after which the rental will expire. Once a rental has expired, the movie can only be rented or purchased again for further viewing.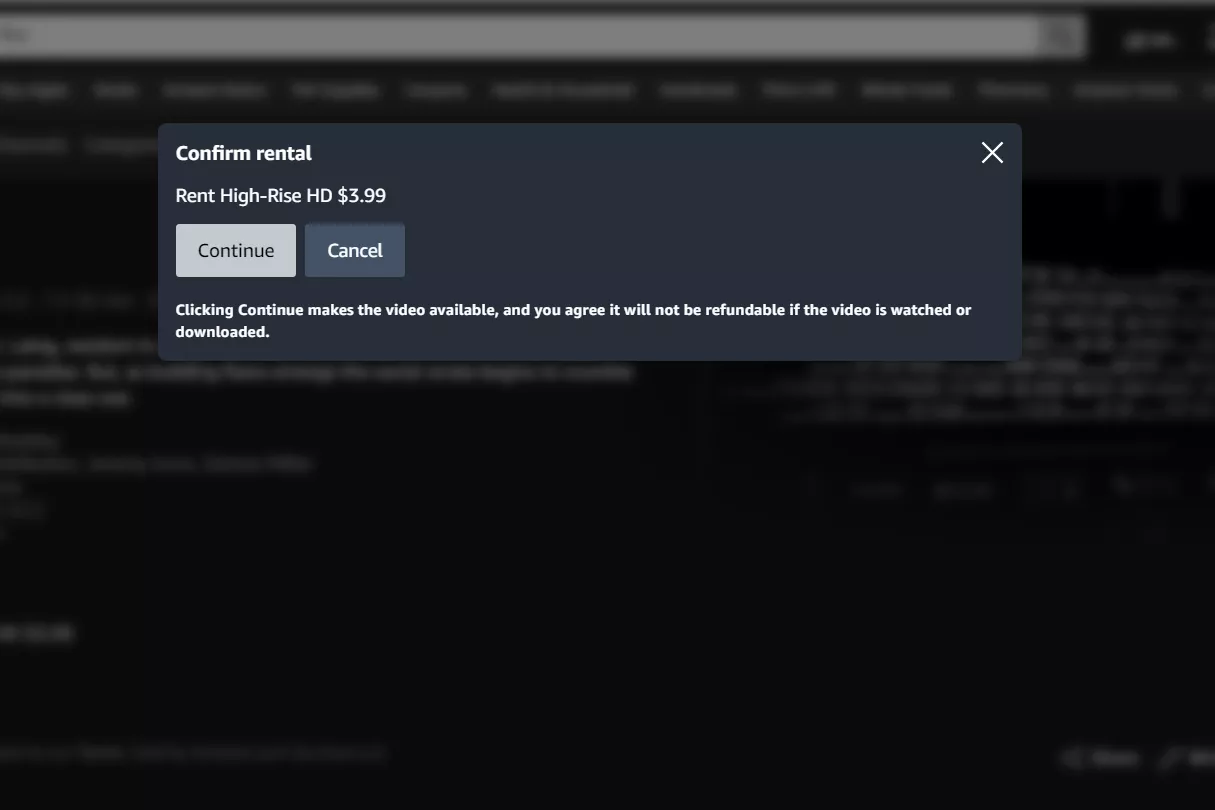 How to Download the Rented Movies?
You can use your Amazon-compatible device (like an iOS or Android device, Fire tablet, or Windows 10 computer with the Prime Video app installed) to download your rental movies. Let's read the following steps.
Step 1: Click on your profile at the top right of the home page.
Step 2: Select "Purchases", click the menu button to the right of the rented movie, and select "Download".
Step 3: Wait until the process of downloading are done.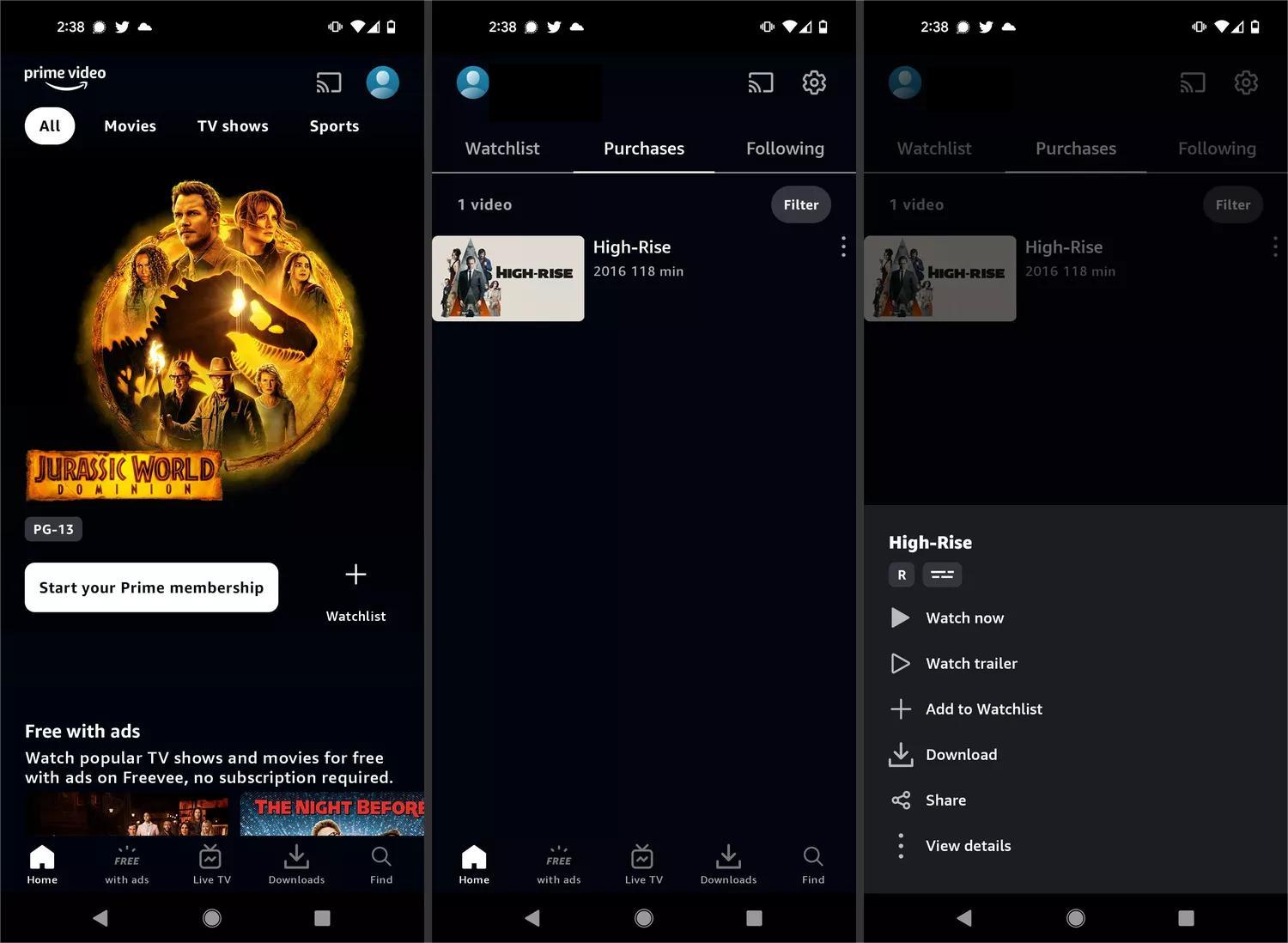 Tips:
Only selected titles can be downloaded in the Prime Video mobile app.
The downloads will be unavailable when the rental expires.
Only computers with Windows 10 can download content using the Amazon Prime Video app. You can't download content from websites or Mac computers.
How to Save Your Downloads Forever
Once you are familiar with the information provided above, it becomes evident that the limited expiration period is a significant inconvenience when renting movies. Is there a solution to extend the rental's validity or save the movies permanently? The answer is a resounding YES! What you truly need is a reliable third-party tool capable of downloading movies in MP4/MKV format.
Allow us to recommend an exceptional tool that fulfills all your requirements - NoteBurner Amazon Video Downloader. This powerful tool enables you to export movies and shows in high-definition MP4 or MKV format. The ability to download videos in such a compatible format proves invaluable, as it allows you to watch them on any device and store them indefinitely.
Furthermore, NoteBurner preserves multilingual audio tracks and subtitles, including 5.1 audio, ensuring that you can select your preferred options.
Features of Amazon Video Downloader:
Export Amazon Videos in MP4 or MKV Format with HD Quality..
Keep Multilingual Audio Tracks and Subtitles, including 5.1 audio.
Extract Subtitles as Separate Files.
H.264 & H.265 Video Codec Options.
Keep the Metadata Info of Videos.
Batch Download Mode & Timely Support.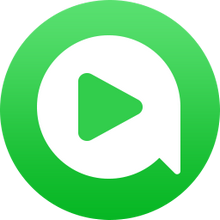 Tutorial: How to Download Amazon Video with NoteBurner
First, please install the latest version of NoteBurner Amazon Video Downloader to your computer.
1

Launch NoteBurner Amazon Video Downloader

Open NoteBurner Amazon Video Downloader in your PC and enter words to pop up the window for logging in to your account.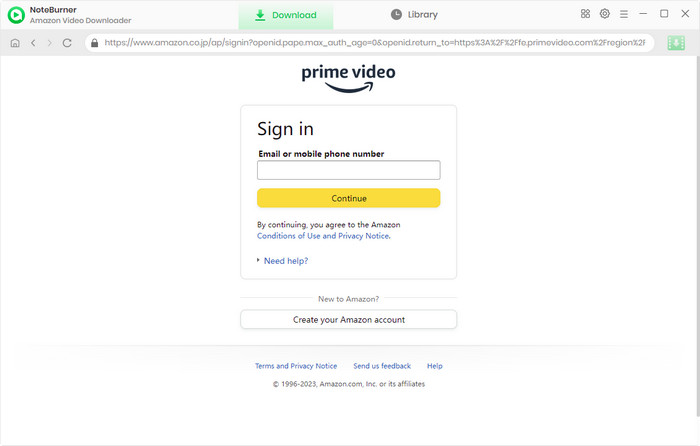 2

Set Output Settings

You can set the output settings in advance. Click the 

 button on the upper right corner to open the Setting window, so that you can set the Video Quality, Video Format, change the Audio Language, Subtitle Language and more.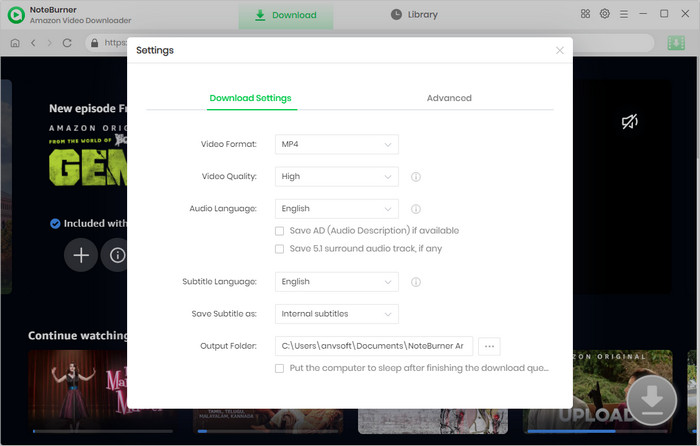 3

Search for Videos

You can search for videos by entering the keyword of movies & TV shows or copying and pasting the URL from the Amazon web player into the search bar.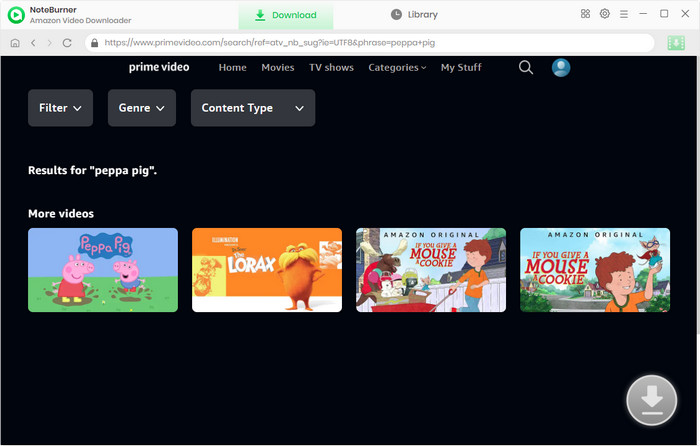 4

Select Advanced Download settings

Before downloading, you can select the Advanced Download options depending on your preference.

If you want to download a TV series, you need to click the

icon to open the Advanced Download window to select seasons, specific video quality, audio track, and subtitle track. If you want to download a movie, please click the

icon to open the Advanced Download window.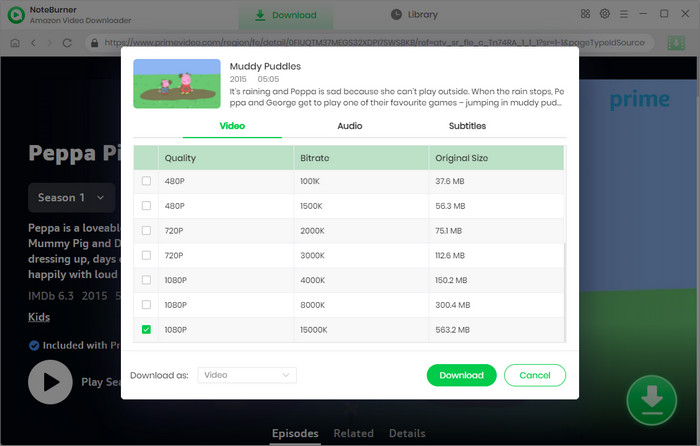 5

Download Amazon Prime Video in MP4/MKV Format

Now, all you need to do is click the download icon and wait until the end of download. To watch your downloaded movie, just click the Library icon and you will find the downloaded MP4 files. You can also directly open the output folder to check the downloaded videos.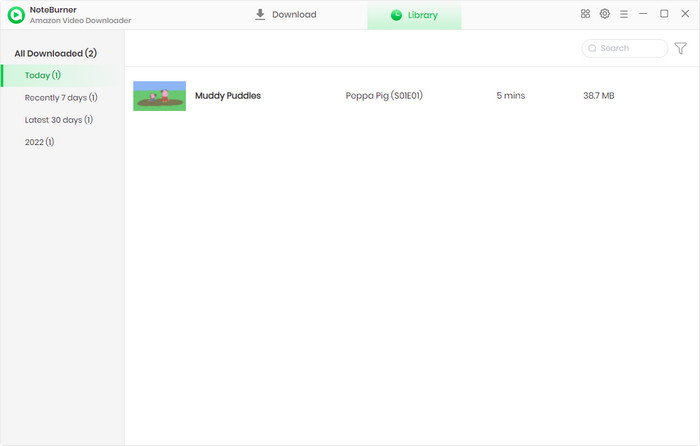 Final word
Amazon's rental service is a convenient option for those who desire to watch a movie without subscribing to a Prime Video subscription. However, if you wish to avoid expiration restrictions and the need to purchase numerous movies, NoteBurner Amazon Video Downloader is an excellent solution. With NoteBurner, you can download rented movies without concerns about expiration and enjoy them on any device, at any time. Install NoteBurner Amazon Video Downloader now and have the freedom to watch your downloaded movies for as long as you desire.